VIDEO - 2015-08-07: Foot fucker tranny masturbating with her feet! I admit it, I have a foot fetish. Specifically a pantyhose fetish. And under my pantyhose I''m hiding a clitty long enough that I can diddle it with my own toes ;) Enjoy 35 full minutes of foot action in my latest HD crossdressing video. Well ok, there are a few minutes of ass fucking in there too, but don''t worry - I''m wriggling my stockinged toes at the camera even as I''m plunging my heavy glass dildo into my tiny little asshole. Speaking of dildos, this thing is HUGE. I ended up spending some time working my sissy cunt over with the small end before flipping my toy around and swallowing the 2-inch diameter glass beads with my ass pussy all the way up to the hilt. Then I tucked my dildo in my pantyhose to hold it in place as I got back to fucking my toes :) If you''ve got a foot fetish or a pantyhose fetish, you''re definitely going to want to download this video. I even ruin my own orgasm in to a pair of nylon socks and stuff them in my mouth to suck out my own spunk. All that just from rubbing my oversized clitty with my nylon clad feet :) Of course there''s no way one ruined orgasm could be enough for this crossdresser, so it''s right back to my pantyhose footjob, this time with a nice closeup POV angle. You can really see the shiny nude nylon shifting over my painted toes as I rub and squish my clitty to a second crossdresser cumshot, this one all over my own sexy feet. This video has a very special ending with some of the most extreme foot closeups you''ve ever seen. Oh, and they''re pantyhosed and cum covered feet, did I mention? You''ll feel like I''m pressing my sticky worn pantyhose right in your face, dipping my little toes in your mouth as I massage my still warm sperm into the soft nylon material with my soles, letting you taste the salty mix of my spunk and my feet.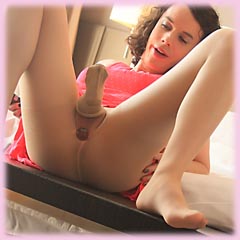 2015-07-25: Tgirl pantyhose sex! This is a set of full-on foot fetish photos, courtesy of a special request I received :) It starts with me teasing the camera with my stiletto heeled summer sandals before slowly slipping them off to reveal that I''m wearing ultra-sheer nude pantyhose. I spread my toes and get me feet up nice and close to the camera so you have a perfect view of the soft nylon material encasing my sexy crossdresser feet. After rubbing my stocking-clad toes for you and giving you tons of closeups of my feet, I finally peel down my panties to reveal that I''ve been a very naughty gurl - I cut a hole in the gusset of my pantyhose so my clitty can stick right out! Actually, it''s just big enough that my tight little pucker of a virgin asshole pokes out too . . . so I make quick work of that and stuff a massive glass dildo in my tranny pussy. Watch me stroke my rock hard cock as my sheer pantyhose hold that dildo in place in my ass :) Next I proceed to give myself a wicked pantyhose footjob. Yup, that''s right, not only can I suck my own cock, I can also give myself my own footjob ;) Apparently my toes are more talented than I realized though - as I''m teasing the camera by stroking my cock with it wrapped up tight in a nude trouser sock, I suddenly start cumming from my own footjob! Oops! Well, you know I''m not one to waste cum, so I suck my crossdresser load out of my sock and dribble it down my chin. Of course, that wasn''t how this scene was supposed to end, so I rearrange the camera and start stroking again, fucking my nylon feet with my growing cock to a second orgasm, this one all over my pretty painted toes. Ahh, that''s better :) Now it''s your turn, bring that cock over here ;)
VIDEO - 2015-07-04: Kinky Katie-Ann''s crossdresser cock bursts right through her thick wool tights! My newest crossdressing video is full of feet, extreme cock and ass closeups, and dirty talk - I know, it''s all your favorite stuff packed in to one video ;) Enjoy a nice pantyhse upskirt scene to start, but what''s this? I''ve caught you peeping at me trying to get a free show! Naughty boy, if you wanted to watch me masturbate all you had to do was ask ;) No, I don''t mind if you stroke your cock while you watch me rubbing myself through my cableknit tights, go ahead. Tell you what, help me take my heels off and I''ll give them to you to sniff and stick that horny cock of yours in too. Mmm, that''s better. Do you like watching me rub my toes together in my cute lace socks? You want to stick your cock betwen my soles too? Well ok, but you''re going to have to do me a favor too then. Here, let me pull my pantyhose down a bit. Ohh! You loos a little surprised there - not what you expected to find in my panties? I hope you''re a fast learner then, because you''re about to get your first mouthfull of tranny cock! Listen to me instruct you to suck my cock and lick my virgin ass pussy with closeups so extreme you''ll be able to see right up inside of me. After you''ve had your fill I go back to touching myself until I get so horny that I burst a hole right through my tights. Oops :) Now that I can''t put my clitty away anymore, I guess I''ll just have to take care of it by shooting an extra large load of xdresser spunk all over those toes of mine that you love so much. Peeling off my sperm coated lace anklets I hand them to you. Here, clean these up for me now ;)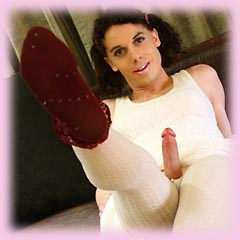 2015-06-19: Foot fetish sissy bursts open her tights. Well you know how horny I get when I''m taking new crossdressing photos for you! Sometimes it''s just too much for my pantyhose to contain, and my 8-inch cock tears right through them :) Let''s be honest though, you wanted a good look at my famous clitty anyway, didn''t you? So much for trying to look all innocent in my white dress and thick wool cablekint tights. Not even my sweet polkadot lace anklet socks or pigtails in my hair are going to fool anyone now, not with the hole I tore through the crotch of my tights with my overgrown tranny cock ;) No worries, I''ll still try to distract you from my throbbing cock by teasing you with the soles of my cute socks, wiggling my toes at the camera, and smiling oh so sweetly. But in the end my clitty gets the best of me (like it always does!) and I end up squirting a huge load of crossdresser cum all over those pretty polkadot socks you were just admiring. Oops ;) Hope you like cleaning up cummy messes as much as you enjoyed me teasing you with my toes!
VIDEO - 2015-05-31: Would you like sperm with that? Crossdresser Katie Ann gets her cum play on, and wants you to join in too :) This xdressing video starts innocently enough with a little upskirt peak at my pantyhose, but pretty soon I''m writhing on the kitchen counter explaining how horny I''ve been recently. Next up is some serious foot fetish action. I whip out my clitty before it tears through my sheer nylons and stuff it in to my sandals, grinding my cock between my pantyhosed foot and my shoe. Then I proceed to fuck my heels and feet in every way imaginable, even spanking my balls with my sexy white sandals. The whole time my clitty is growing out of control - I told you I was horny! With a wicked grin, I grab a condom full of orajel and slide it over that naughty cock of mine. No sense cumming early when I have a big surprise for you at the end of the video. But would you believe that the feel of that warm numbness spreading down my cock as I pulled my condom down was enough to make me splooge right there!? Yup, lying helpless on my kitchen counter I inflated that condom with tranny sperm without even touching myself! Well, no worries. I guess you get a little appetizer before I serve breakfast. Enjoy the close-up of my cum-filled condom as I hold it out for you and empty it in to your mouth. Ok, now back to the kitchen I go, to finish making your breakfast! After the load I just shot, it''s going to take me a little extra work, so I get out my favorite glass dildo and go to town on my sissy ass. I pump my sweet little ass good, desperate to give you the delicious cum breakfast I had planned. Finally I''m ready, and I move over to the stove to start your cum omlet :) Ah, there''s nothing like having a crossdresser for a housewife, is there? ;)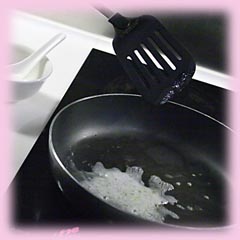 2015-05-23: Xdresser Katie makes a cum omlet for breakfast! I just love the taste of warm spunk in the morning ;) I went for a 1920''s housewife look for these crossdressing photos, complete with full fashioned nyon pantyhose, a new hairdo, and bright red lips. Wouldn''t you love to have a gurl like me to cook you breakfast every morning? I''d get up extra early to slip in to my pantyhose and do my makeup. And I promise I''d make everything fresh! I went straight to the source and squeezed out some fresh cream for your omlet. I hope you enjoy it as much as I enjoyed making it for you ;) Now come over here to get your after breakfast blowjob, you''re not the only one who needs to eat in this house!
VIDEO - 2015-04-20: Sissy slut begs for your cock before cumming 3 times! And if hearing me talk dirty and watching me cover the room in sperm isn''t enough for you, this crossdressing video also includes some extreme tucking and a super closeup of me fucking my tiny teen ass with a big glass dildo :) I think my red hair, sexy stayups, and lace full-cut briefs really complete the look of this English countryside hotel, don''t you? What, your hotel room didn''t come with a busty Brittish bird sitting on the dresser and begging to please you? Well, I suppose you can watch, since I don''t have any guests to serve right now ;) As I peel down my panties, you would never know I''m actually a crossdresser. No sir, nothing but a soft and perfectly trimmed muff down here. I hope you won''t be offended, my clitty gets kind of big when I''m excited though . . . Tell you what, how about I just bend over here and let you fuck my ass so you don''t need to worry about how big my clitty gets . . . Oops, hehe, guess I still had it tucked between my legs! I do my best to keep you involved in this xdressing video, from talking to putting my ass and swollen clitty right in the camera. You won''t believe some of the closeup shots! But finally I can''t take the teasing and ass fucking any more, I need to cum! Of course, I''m trained to please so I edge myself repeatedly until . . . one brush of my pink painted fingernail is enough to send me over the edge and pathetically dribble cum all over myself in a massively ruined orgasm. Not to worry, I can still handle this. I go back to stroking my fat clitty for you and pumping my sissy pussy for your pleasure until . . . until . . . Oh god! Another ruined crossdresser orgasm! You can really tell from this second ruined orgasm just how desperate I am as my pretty face screws up in panic and I almost lose control. But I''m a good sissy gurl, and I know you just got off watching that. So I lick all the cum off my fingers and clean up the splatters you''ve left on my thighs and quivering well-fucked sissy cunt. Then and only then do I take care of myself, jerking off my tranny clit and finally cumming right on the mirror so you can see me spurt from all angles. Hope you enjoyed that as much as I did! :)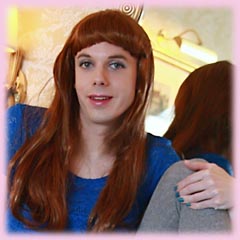 2015-04-10: Brittish crossdressers know how to party! This week finds me in an English countryside mannor, cumming all over my dressing room mirror :) I hope the owners enjoy the little treat I left them, hehe. This was no puny ordinary load of cum either. No, I left three of my famous Katie cum loads. Did I mention that I was a little horny when I started these photos? And if you''re interested in more than just my massive spunk loads, you''ll be happy to know that I start the set teasing you with views of my long legs and up my A-line skirt. Yes, those are stay-ups I''m wearing this week, and you can see right to my lace panties. What do you think of the view? Doesn''t my crossdresser bulge look huge in these prim and propper vintage panties? I''m probably lucky I didn''t rip through them with my massive tranny cock tucked inside. I''m sure the girl I ''borrowed'' them from wouldn''t have been too happy ;) And of course nothing says British lovin'' like a fat glass dildo in the ass, right? I pounded my prostate so hard with these giant glass beads that I milked my first orgasim out of myself without meaning too. Oops, no worries, I licked that one up and got to business with my mirror soon after. You know, the taste of sperm in my mouth just makes me cum harder... maybe next time you can donate yours to me? :)
VIDEO - 2015-03-19: Teen xdresser showing off against Tokyo skyline :) You''ll want to turn the audio up for this one! My newest crossdressing video starts off with some gaisha-style teasing behind a paper wall before I invite you over for a little private chat by the window, looking out across downtown Tokyo. I tell you all about my new outfit that I bought in the little shops of Harajuku Street. I bet none of the shopkeepers imagined what I was about to do in my sweet little loli out fit though! Lucky for you, you don''t have to imagine ;) C''mon over to the couch, we can''t let the whole city get a free show! Make yourself comfortable there. I might look all sweet and innocent today, but I''ve got some extra naughty surprises for you under my velvet dress ;) I start by stuffing the BIG end of my favorite glass toy in my ass for the first time ever. And when I say BIG . . . well, you''ll just have to take a look for yourself. It''s like one of those anime images where you can see all the way up inside thanks to a monster with a transparent cock or something. And speaking of monster cocks, have you noticed the massive bulge in my pantyhose yet? Of course all this travel has been making me excessively horny lately, and before long I''m bobbing my sweet sissy face on my own swollen futanari cock, pigtails bouncing and everything. Yeah, I love sucking cock so much that I just can''t keep my painted crossdresser lips off my own tranny dick. In fact, I enjoyed my autofellatio session so much that I sucked myself off to a massive xdresser facial. Enjoy the super closeups at the end of this video of my thick spunk absolutely covering my loli teen face :)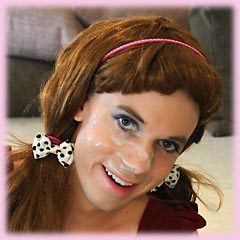 2015-02-14: I bet you''ll never guess where I''ve been this week - Tokyo! I don''t know how the Japanese feel about crossdressing, but they sure do love socks and skirts and sexy outfits, wow. I spent the day on Harajuku Street shopping the Japanese street fashion shops. And admiring the girls or course :) I set a goal of coming home with a complete outfit from Harajuku street so I could dress up as a perfectly authentic little hentai doll for you. I was sooo distracted by all the socks though. I lost count when I had bought 8 or 9 pair . . . but eventually I did also find a sweet loli dress and some sexy sweet t-strap heels to go along with all those socks :) As soon as I dropped my bags in my Tokyo hotel room I stripped down to try everything on and pick out the perfect outfit to crossdress in later. Once I was dressed I posed for a few special photos in front of the window so you can see me in xdressing in front of the Tokyo skyline. Of course in my excitement over my new velvet lolita dress and hot Japanese socks things quickly got too risque for the window ;) I moved to the couch to start stroking my sissy clitty through my pantyhose. Eventually I found a nice glass dildo to pop my loli ass cherry, and proceeded to lick my own growing clitty and give myself a little blowjob. I''ve really been into the whole auto-fellatio thing lately. Probably because I''ve been craving cum like crazy, and the surest way to get a big hot load of spunk in my mouth is to suck on my cock. You should try it sometime. Sucking on my cock that is ;) No surprise, I delivered on those desires for a nice cum facial like a porn star. I landed a particularly thick and sticky wad of crossdresser cum all over my cute hentai face. Not even an army of penis-shaped tentacles could have done a better job. And to finish it off I got some adorable Harajuku teen style selfies with my face dripping xdresser sperm :) Happy Valentines day to all my members! Seems like an appropriate set of crossdresser porn for the occasion, don''t you think?