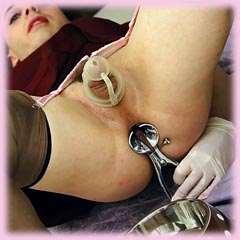 2016-06-17: Thought you were being sneaky peeking in through my window, did you? Didn''t know you were staring at a crossdresser with a bigger cock in her panties than yours, hmm? Well now you''re going to have to sit there and watch the whole show! Some really nice fetishy stuff in this photo series. Some days I''m not even sure where I come up with this stuff :) It starts out innocently enough with vintage nylon stockings and a tight red dress. With my cute curly hair and pouty red lips you might mistake this crossdresser for a perfectly normal 1920''s pinup girl. Until you notice that I''m wearing latex socks over my nylons. Ok, so maybe a really kinky fetish pinup girl. And then that bulge in my panties! Don''t worry though, my scary monster cock is all locked up tight in a little chastity cage. It can''t possibly hurt you. Watch as I kick it mercilessly with my latex clad feet. See? Perfectly safe. I even kick my own balls so hard that I burst my latex socks! Later I stretch my sissy pussy with the largest dildo I own, until it gapes big enough to fit a speculum inside. After some kinky medical play, my clitty bursts free from its chastity device. Oops ;) I then procede to kick my crossdresser clitty to a totally ruined orgasm. Ooh, and then I do it again! Finally with my fingers, cock, balls, and ass completely covered with my sticky wasted cum dribbles I jerk my sissy cock to a third orgasm all over the soles of my nylon stockings. I told you this set was kind of fetishy! :)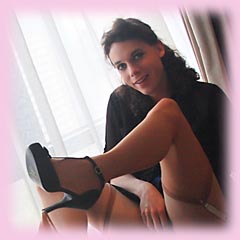 2016-03-07: Classy crossdresser in full fashioned stockings masturbates with chopsticks. Well what did you expect me to do with them? I don''t have all my entire sex toy collection with me while I''m traveling, so I had to improvise a bit ;) Plus I get to show off my new chopstick skills for you this way, tugging my clitty and spreading my tight little sissy cunt open with them. Bonus points to any member who can figure out where I was based on the view out the picture window behind me! I wonder if people on the street could see me masturbating in my window... oops! Bet they were in for a BIG surprise when I slipped my silk panties down my long nylon clad legs and off over my cute t-strap heels... and then looked up to find an 8-inch cock throbbing out from between my legs! I take off my heels for you in these crossdressing photos and really get comfortable as I squirm around on my black glass table, wriggling my painted toenails at you through my very sheer stockings. I just love the look of nailpolish under nylon, don''t you? In fact, I love it so much that I started fucking my feet, squeezing my growing tranny cock between my soft soles and my inner thigh.. And before long I''m erupting with a hot thick load of sperm all over my feet. Watch as it dribbles down my stockings and between my toes, hee hee. Do you like when I spunk all over my stockings? Me too. Here, I''ll just leave you with my dirty cum covered nylons while I go lick the cum out from between my crossdresser toes ;)
VIDEO - 2016-02-21: Pigtailed tgirl gets a sloppy anal creampie from her own cock! When''s the last time you''ve seen a tranny with a cock long enough to stick it in her own ass? Sure, maybe you can find some other gurls who can stuff their floppy clitties in their butt cheeks, but here at TheCrossdresser.com I do things the right way ;) This is a full-on anal self-fuck with my completely hard 8-inches gaping open my tiny teen ass. Don''t believe me? I self fuck myself hard enough that I blow my load right up my own asshole. The pressure builds up so much that my clitty pops right out of my butt, spraying cum everywhere. I captured a great camera angle with this video too, so you can see my face as I totaly lose control and feel my tgirl butt pumped full of hot sticky sperm for the first time (and yes of course you get a closeup of the action too!). And if you enjoy my innocent softcore moments, this video starts out with some great barefoot teasing as I pose and wriggle my cute toes at the camera. You''d never guess how nasty this video gets from the beginning - I''m just your typical innocent teen, showing off and flirting with the boys as I seductively pull on my thigh-high knit socks and cute fuzzy boots. Hey, you weren''t trying to get a peak up my skirt, were you?! That''s private ;) You know, I have a big secret in these panties you seem so interested in peaking at. I''ll show you if you promise not to tell. Here, take a look inside ;)
VIDEO - 2016-02-05: Crossdressing candystriper Katie-Ann finds herself in a load of trouble after hours at the clinic! Open wide, Katie-Ann - since you won''t swallow your medicine, we''re going to have to inject the whole sticky mess right up your gaping sissy cunt! Yes, for the first time on video you can see me actually gape my tight teen ass fully open. It takes some effort working it with a thick butt plug first, but I finally stretch myself to the point that I might actually fit your cock inside :) Want to try? And what better way to celebrate than to pump my ass full of warm sperm. I mean, you do know what kind of clinic I work at, don''t you? ;) I just borrowed a few bags of donor sperm. Don''t worry, I make plenty to fill them back up again! The doctor says that regular doses of cum will make my clitty grow bigger, but first I have to bandage it up and put it in a cast while I''m waiting for the medicine to work. I bet you''ve never seen a cock swell so hard or turn so purple as mine does when it''s wrapped up tight and secure. My balls get wrapped up as well, and let me tell you I really thought I was just going to burst the whole time I was shooting this video! If you''re in to CBT I think you will really enjoy this crossdresser video. Or if you''re in to playing doctor of course. After my treatment you can watch me push my ass smoothie back out in to a cup and play with my big butt load of cum. Finally though the pressure of my clitty becomes to much, and I release it from its chastity cast. You''ll get some nice closeups of my well stretched balls and throbbing cock as I finally shoot my own load of crossdresser cum... right into the crotch of my sheer pantyhose! Watch as I pull my wet sticky stockings back up my legs and over my cute teen butt, rubbing my sperm all over. Well, that was an exciting adventure, I think it''s time for a nap in my cummy pantyhose. Won''t you join me?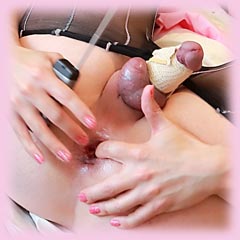 2016-01-18: Wake up, Katie-Ann. It''s time for your medicine. Open up that ass nice and wide so we can pour it all in there, that''s a good little crossdresser. This will make that clitty of yours grow big and strong! Wait, what kind of hospital is this anyway?? And why are you putting medicine in my ass? It feels an awful lot like a bucket of warm sticky cum you''re pouring in there . . . Sigh, my crossdressing always gets me in such trouble! One minute I''m minding my own business, dressing up in pin-stripe pantyhose and my cute platform saddle shoes. And the next I''m lying half naked on an operating table having sperm injected up my gaping ass hole with my clitty wrapped in a cast! Oh well, at least you should enjoy the photos of my tgirl operation - there are some great closeups as my little virgin butt is stretched as wide as it can go. And I''m sure you''ll enjoy seeing my gurl cock swell up so hard it turns purple too! Don''t worry, no crossdressers were harmed in the making of these photos. Don''t tell anyone, but I actually kind of liked it ;)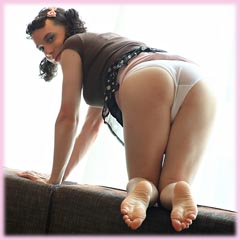 2015-12-12: Teen crossdresser Katie-Ann sticks her clitty in her own ass! This was a big day for me, losing my anal virginity. I mean sure, I''ve fucked my ass with plenty of toys and, well, just about anything else you can think of ;) But I had never experienced a big hard cock up my ass until today. I start out with some nice teasing on the couch, showing off my bare feet and cute painted toenails before pulling on some long knit socks and a pair of cute fuzzy boots. Of course I was nervous about popping my anal cherry, so I worked myself up good with my fingers and my thickest glass dildo. I certainly hadn''t picked some tiny cock to lose my virginity to - I planned on stuffing my own throbbing 8" tranny cock up my virgin ass ;) I mean, the best part about being a crossdresser is that I have both a big hard cock and a tight little sissy pussy too, right? So I might as well take advantage of being the best of both worlds ;) I wanted to be sure and see every detail as I popped my cherry too, so I set up right against a mirror with the camera over my shoulder, giving you a perfect view of my desperate gaping ass as I take a deep breath and thrust my own clitty inside. There''s a little stretch, but soon my head pops in, and oh god its so hot! I think I''m... ohhh. Yes, I just gave myself a sticky anal creampie, pumping my hot crossdresser spunk right in to my own sissy pussy :) Enjoy!
VIDEO - 2015-11-13: Desperate crossdresser wets her pantyhose on her first day on the job. Katie-Ann is still learning the ropes, and can''t find the bathroom in time! So instead she hides in the corner of a massage room and squeezes her long legs together as her warm pee starts to dribble down her pantyhose. How embarassing! As if the wet streaks down my tights weren''t bad enough, my brand new suede heels are soaked and showing tell-tale dark wet lines. And the puddle on the floor! I desperately try to mop up my piss with my socks, but in the end it''s hopeless - I''ve made too big of a mess to hide. Finally I give up and plop down in my warm wet puddle, completely soaking my panties. Of course the warm wetness in my panties just causes my panty bulge to grow. Bigger and bigger until my crossdresser clitty tears right through my patterned tights, all swollen and throbbing. Well, no sense in letting a hard cock go to waste, so I get to work stroking and loving it, even fucking my piss wet socks with my tranny cock. You know me though, I can''t let my clitty have all the fun - my sissy pussy needs some attention too! After searching around the massage room I find a nice bottle of wine for our clients, and figure it will stretch my ass just right ;) I fuck that wine bottle like I''m riding a real cock cowgirl style, swallowing the entire bottle neck deep in my ass pussy. Oh yes, and what would a spa visit be without a facial? I end this video in style with a truely massive crossdresser self-facial cumshot. It fills my entire mouth before I swirl it around and spit it out at the camera. My cum is so thick though that I only manage to splatter it all over my own face. Laughing, I show you what a huge mess I''ve made today and offer you the last drops of my cum.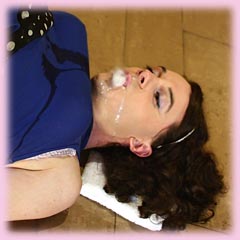 2015-10-05: Welcome to the Spermy Spa! We specialize in erotic massage and exotic treatments by our skilled staff of beautiful tgirls ;) Katie-Ann here has been trained to meet ANY of your needs, don''t be shy to ask for some of her special treatments. In fact ... Katie! What are you doing? Oops, my boss caught me just as I was running for a potty break, and sure enough I wet my panties right in front of our new client! How embarassing to have to stand there with my warm pee trickling down my pantyhose, leaving dark wet spots across my suede t-strap heels, and pooling in to a giant puddle on the floor! Then imagine my shock when you reached up under my skirt to squeeze my flooded panties and got a big handful of my hidden crossdresser clity! Hmm, looks like you''re enjoying what you found under my skirt though. Maybe you''d like to see a demonstration of my services? Plopping down in my own puddle of piss, I preceed to demonstrate my massage skills on my own swelling clitty for you, continuing to squirt a mix of pee and pre-cum all over my socks, skirt, and floor. Maybe I should show you what I can do with my ass too. Soon I''m stretching my sissy pussy over a thick champagne bottle. See, I''ll be able to fit you no matter how big you get ;) At the end of this set, I make sure to demonstrate exactly why this is called the Spermy Spa, giving myself a huge self-facial. And of course I don''t just swallow my giant cum load, I spit it out and slurp it back up again, making quite a show out of soaking my shirt and coating my entire face in my sticky cum. By the time I''m finished you''d think I was just at the center of a bukkake party! So, which of those treatments can I get started for you? ;)
VIDEO - 2015-09-28: Sexy footjob video in Wolford pantyhose! Katie-Ann has a foot fetish like none other, and with her 8-inch crossdresser cock she can fuck her own feet whenever she wants. I mean, what would you do if you had your very own pair of soft sexy soles and pretty painted toes wrapped up in the most luxurious nylons money can buy, ready to service your every need any time, any where? You''d be fucking your own feet too, I know you would ;) I start this footjob video of soft and sensual, talking to the camera as I oh so slowly remove my sexy high heels and point my nylon-clad toes at you. If that''s not enough, I spend a LOT of time giving you ultra closeups of my stockinged feet and cute crossdresser toes . . . before lifting my velvet skirt to show you what else I have encased in my Wolford pantyhose ;) Don''t worry, I won''t tell if you start licking your computer screen imagining that you can taste the wetness dripping from my swollen clitty. Yeah, it gets that close ;) But wait, what''s this? Crotchless Wolfords? Yup, I''ve already taken the libety of freeing my clitty from its nylon prison. So all you get when you stick your head up under my skirt is a big mouthfull of tranny cock as my pantyhosed legs wrap around you, pulling you closer! Hang on though, you won''t want to miss the next part when I turn around to show you my beautiful tgirl ass, squeezing my engorged clitty between my nylon-encased thighs where your face was a moment before. I almost cum right down my own legs from rubbing my cock between my thighs, but I still have 2 new toys to show you today! Too much for you? Don''t worry, you can always cum back tomorrow to watch me work an enormous glass buttplug in to my virgin tranny ass. Oh, and you''ll get some excellent closeups of this as well ;) Then I proceed to fuck my stockings, grind my xdresser clitty against my soles, rub myself with my tiny toes, hump my sexy heels, and spank my swollen balls with my shoes. Oh, and then I finally break out my second toy, a new magic wand which I use to rub my desperate clitty against my feet until I spurt a huge (and I really mean huge!) crossdresser cum load all over my shiny new Wolfords. How''s that for a crossdresser footjob?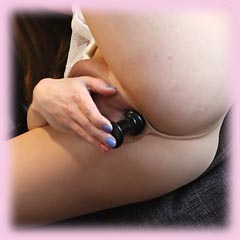 2015-09-05: Tranny pantyhosejob number 2! This time in sexy sheer Wolford stockings :) Oh yes, you know when I get a good request I just can''t get enough! I was so excited after my first pantyhose footjob set that I couldn''t help doing another one ;) This time I ordered some special sheer tan Wolford pantyhose to make sure that my sexy feet and painted toes would stand out. Plus I wanted to make sure that I would be able to shoot one of my famous massive crossdresser cumloads all over my nylon clad soles just by fucking my feet and my shoes. Oh yeah, and I introduced two special toys in these crossdressing photos as well! The most wonderful glass butt plug I''ve ever experienced, and a magic wand to torture the hell out of my engorged clitty as it''s trapped against either my sexy feet or my platform stripper sandals ;) And of course you won''t want to miss the comeback of my hot red hair either! Oh and one more thing. Once I get the video posted from this set I''m going to have a REALLY special treat for all my members. All thanks to this new buttplug I have. You''re not going to want to miss my next crossdressing update ;)