VIDEO - 2016-11-26: Teen crossdresser has a serious oral fixation, sucking dildos and even her own cock before loading up her tongue with a big sticky puddle of cum... and then playing with her spunk for the camera, dribbling it out, blowing bubbles, and licking it back up multiple times! What can I say, I really love giving blowjobs, especially when they end with a big load of cum in my mouth ;) And you thought today''s video would be focused on the ultra sheer 8 denier pantyhose I''m wearing, lol. Don''t worry though pantyhose fans - there''s plenty for you to enjoy here too ;) This crossdressing video starts with me rubbing my clitty through my sheer to waist pantyhose until it swells up to its full 8 inches, trapped between my smoothly shaved leg and my silky sheer nylon. Once I''m all hot and ready I break out my giant realistic dong and proceed to give it a thoroughly sloppy wet blowjob. Can you tell I''m a little desperate for cock today? I peel down my pantyhose just a tiny bit to expose my sissy pussy, and wouldn''t you know it, that dildo goes right for my ass. I tried to tell it there''s no way such a big thick cock will fit in my virgin tranny ass, but it wouldn''t listen one bit. Seriously though, this cock is a little big for me - I can barely stretch enough to pop the head inside. Maybe next time. Not to be dissuaded from my cock cravings, I turn my attention to my very own tranny clitty, performing some pretty impressive auto-fellatio and quite nearly losing my load from my own talented tongue swirling around the tip of my cock. Lucky for you, I managed to hold it together until I could get the cameras moved and capture a stunning closeup of spurt after spurt of thick crossdresser cum shooting straight in to my mouth. As much as I love the taste of warm cum on my tongue, I''ve never given such a clean neat blowjob before and feel compelled to do something messy ;) I let all that cum dribble down my chin and on to my pantyhosed legs where it continues to drip and run all the way down to my nylon encased toes, making an absolute cummy mess of my new pantyhose. Did I mention this was a really big load of cum today? After licking my feet and pantyhose clean, I still had enough cum in my mouth to do it all again ;) Oops, sorry, were you expecting me to share?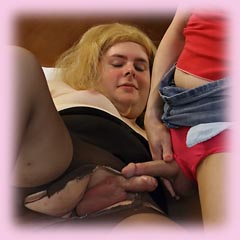 2016-10-10: Introducing Ms. Cheeky Valentine, TheCrossdresser.com''s newest gurl. Cheeky has a pantyhose fetish nearly as big as mine, and she seems to be a bit of an exhibitionist as well - just a few minutes in to posing for me, her crossdresser clitty was already poking out under her bodysuit and making quite a bulge! When I suggested she make herself more comfortable, Cheeky didn''t waste any time ripping the crotch of her black pantyhose and whipping out her adorable uncut clitty for me. Cheeky certainly isn''t shy about her body, and in fact she performs on stage at several local drag shows - my first professional model on the site ;) Well of course once I saw Cheeky''s clitty throbbing there just inches away from me I couldn''t help but reach out and touch it. One thing lead to another, and soon we were completely wrapped up in some hardcore crossdresser on crossdresser action, jerking, rubbing and sucking away. Cheeky seemed to really like it when I started giving her a footjob with my Wolford wrapped toes, so much so that she asked me (several times) if she could cum all over my sexy feet. After edging and denying my horny new gurlfriend a few times, I finally gave in and gave her permission to shoot her sticky load on my soles. Cheeky certainly didn''t disappoint, soaking my feet and sheer pantyhose with enough tranny spunk that it was dribbling off my soles and down my long legs in streams. Let me tell you, the feel of hot sperm flooding my legs and splashing off my toes was enough to get me moaning and grinding my own tranny cock on the floor. Immediately after licking up some of Cheeky''s spunk off my feet and sucking a bit out of my pantyhose (you know how much I love the taste of cum!) I added a second massive cumload to my pantyhose. Between the two of us, you''d think my feet had just been the centerpiece of a footjob bukakke scene - seriously, I''ve never seen so much cum all at once! Don''t worry though, there''s still room for your cum too ;)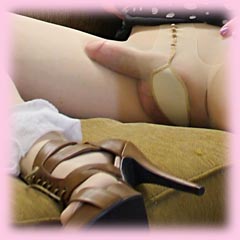 2016-09-16: Teen xdresser licks up her self-facial and dribbles it on her stockinged feet! Yeah, I''m a kinky gurl like that ;) These crossdressing photos are named after the most incredibly sheer nylon pantyhose that I''m wearing - 5 denier! If it weren''t for the little gusset or the way my cock is trapped in them you''d never even know I was wearing nylons until you touched my long legs... and yes, go ahead - you can touch them. Maybe you''d like to rub your cock on them too? It seems both my mouth and ass-pussy are a little busy right now with this fat life-like dildo stuffed in them, but I''m sure you can get off fucking my pantyhosed legs and feet like I do, right? ;) I do a pretty nice job deep-throating that rubber cock in these photos if you''re in to that. Then once I''ve stretched my fuck holes good, I roll over and get my mouth fucked by a real cock - my own! Yup, a little auto-fellatio to end this set of crossdressing fun. Pretty soon I lick my clitty off to a great orgasm right in my own mouth. I mean I really get a seriously huge mouthfull of my hot sticky spunk this time, so much it almost overflows. I feel bad about not sharing my xdresser cum though, so after playing with my cum for a bit I dribble it all back out of my mouth... all over my super sheer pantyhose! (and the couch too, lol) My toes and soles are absolutely soaked in sperm, with strings and trails of my sticky sauce running up my legs and over my calves. Of course naughty as I am, I always clean up after myself. Want to help me as I lick cum off my toes and suck sperm out of my stockings? :)
VIDEO - 2016-09-04: This young schoolgirl has a naughty side! Wearing her uniform skirt far too short, talking dirty to the schoolboys, and even peeing in public on the neighbor''s porch! Oh, and did I mention that she keeps a big cock tucked in her panties? Surprise! This adorable redheaded schoolgirl is actually a crossdresser ;) So which part had you fooled, the innocent braces? Or maybe the perfect Japanese schoolgirl uniform, complete with over-the-knee slouch socks? Or was it my long sexy legs and the upskirt peaks I was giving the camera as I skipped home from school? Well no matter, now that you know my secret AND I caught you watching me pee pee outside, you''re coming home with me so you can''t tell anyone! It''s ok, my parents aren''t home. Besides, I could really use some help with my anatomy homework... I''m supposed to find the biggest cock I can and see if I can fit it in my pussy, but the only hole I can find is my tiny little crossdresser ass. I guess that will have to do, but it''s going to be a really tight fit. Don''t worry, I always show all my work on my homework assignments. I also have some biology homework. I''m supposed to take teacher''s special sauce and inject it in to my pussy. He says they teach this lesson in all the best anime videos, so I suppose it''s ok. But without a pussy I don''t know what to do! Maybe I can inject it in my clitty instead, I definitely have one of those ;) Afterwards I''ll do my phys ed homework - I''m supposed to learn how to milk a cock. This one''s easy though, I''ve got lots of practice milking my own tranny cock. I bet teacher''s going to be surprised when he finds out I milked 4 orgasms out in one sitting - that''s a new record for me! You better tell him the truth since you''re going to get to watch the whole show ;) My most extensive crossdresser video to date, including multiple settings (several of them outdoors in public!), two camera angles (including super close-ups), and lots of dirty talk! That''s almost 40 minutes of hot teen crossdressing, just for you ;)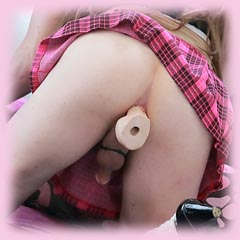 2016-08-26: Katie Crossdresser is an innocent Japanese schoolgirl complete with braces and slouch socks. Super duper long slouch socks, the sort of thing you only see in anime films. Not only that, but she''s a real life dickgirl! You''d never know that under her short plaid skirt Katie Ann has a clitty that grows like magic under her special touch until it''s freakishly long and hard. And you know what always happens in those dickgirl movies when one of the gurls'' clitties swells up. That''s right, somebody gets fucked in the ass ;) In this week''s crossdressing photos, Katie finds out there are even bigger cocks than hers, and one of them stretches her poor virgin ass as wide as it will get! These are some really fun xdressing photos that I shot, showing you my walk home from school (yes, crossdressing outside in public!), peeing on my neighbor''s porch, and then walking you around my parents'' house while they''re still at work. Haha, did I mention that under my innocent braces I''m really a VERY naughty schoolgirl? Of course these photos end with me geting stuffed full with a really fat cock-shaped dildo. And then conducting some extreme experiments with my new-found clitty powers before filling up one of my parents'' wine glasses with a pretty extrodinary amount of dickgirl spunk. Which I lick, drink, and dribble over my braces and down my chin, all over my schoolgirl uniform. Oops!
VIDEO - 2016-08-14: Young crossdresser Katie-Ann''s wild ride ends with her blowing her load hands-free while riding a chair reverse cowgirl position. Ever want to see a tight virgin tranny ass clench hard in the throes of an incredible orgasam? Want to see it in super close-up high def video? Yeah, I thought so. Just don''t tell my new boyfriend, ok? I got all dressed up for our first real date, but I was so excited and horny that I was bulging out of my panties and right down the leg of my lace tights before I could even walk out the door! What''s a gurl to do with a raging boner in her pantyhose? Clearly I had some excess sperm that needed to be drained if I didn''t want to be pitching a tent in my evening dress ;) Of course I fully intended to be bursting out of my tights later in the evening, but I couldn''t afford to let my cock out of the bag too early with a new guy you know ;) Well since I had dressed so pretty I figured there was no harm in running the camera for you while I took care of my desperate situation. I''ll show you some nice closeup footage of my crossdresser clitty growing down the leg of my sheer stockings, straining to escape. Then I work my (still) virgin ass with my fingers, followed by a thick glass dildo. Warming up for later you know ;) Finally once I''m well warmed up and dripping, I give you a little taste of my precum, sticking my throbbing tranny cock right in the camera. Bet you''ve never seen a cock this close before! Just a taste though. If you want more I''m sure I''ll be up for a second round after my date tonight, but I can''t be wearing myself out just yet. For now you''ll have to settle for a good old-fashioned cock milking. I straddle a chair in reverse and set the camera low, giving you a full view of my tight ass and swollen tgirl clitty poking out of my patterned tights. No touching, this is a delicate operation. Just watch as I spank and rub my crossdresser cock and balls, bringing myself right to the edge ... until ... mmmmm. Oh god, there''s more ... ohhhh. Not yet I''ve still got ... oooooohh. Yup, it''s a reeaalllly long tranny orgasm, squirt after endless squirt of hot goo pumping out of my twitching clitty. And did I mention the super closeup of my clenching ass in this crossdressing video? Can you even imagine being inside there, pumping me until I drain my balls? No? Well here, drink up this platter of my spunk, and maybe I''ll treat you when I come home from my date ;)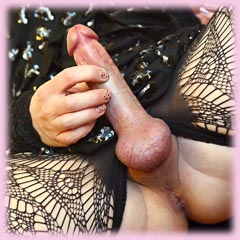 2016-07-25: Closeup crossdresser orgasm shows sweet Katie''s virgin ass clenching as she spurts hot cum! That''s what happens when you sit reverse cowgirl on a chair and jerk a throbbing 8-inch tranny clitty with the camera only inches away ;) I bet you''d never guess this was another member request, hmm? Was it the size of my cock that gave it away? I always get so hard when I do requests... And by the way, if you''re in to pantyhose you won''t want to miss this update - I''m sporting a brand new pair of elegant lace tights imported direct from Germany. They hug my long crossdresser legs so tight they''ll probably make you jealous ;) But don''t worry, this swollen clitty is only for you. And imagine, all this was just in preperation to go out for a night on the town - I had to do something to keep my cock in my panties for a night of dancing! I stretch my ass with a glass dildo just enough to make sure you can see it twitch good when I cum. But don''t worry, it''ll be plenty tight when I come home with you. And you know my sissy cock holds an endless supply of crossdresser cum. They''ll be plenty left for later ;)
VIDEO - 2016-07-15: Boys have a penis, and girls have ... well in teacher Katie''s case, she has a great big clitty to punish naughty students like you! Today class, we''ll be taking a field trip to Beijing where we''ll learn how to use things like chopsticks. Teacher Katie will be putting on a special public demonstration of her chopstick skills - you''ve never seen chopsticks used like crossdresser Katie can ;) Now listen up class. Don''t be distracted by Katie''s panty bulge - it''s impolite to stare you know. Try to focus on her technique as she dexterously twirls her tranny cock and squeezes her balls with her chopsticks. Now don''t worry, you''ll all get a chance to try later! Now it''s time for a very important lesson as crossdresser Katie spreads her sissy cunt open for you to look inside. See why it''s so important to have good chopstick skills? You never know when you might need to gape a crossdresser''s ass before fucking her ;) Now class, when you''re ready our sexy teacher Katie has offered her shear stockinged toes to cum on. Don''t be shy, just step up to the table and leave your spunk on her toes with everyone elses''. Don''t worry, teacher Katie loves the feel of warm cum on her full-fashioned stockings, and she''s going to need every on of you to satisfy her cum cravings ;)
VIDEO - 2016-07-02: Naughty boy, you''re in for a BIG surprise peaking through this crossdresser''s window! Filmed from two camera angles so you can see all the kinky action, including some super closeups of ruined orgasms, anal stretching, and brutal ball busting. What''s wrong, bite off more tranny kink than you can chew? This video starts off innocent enough in my tight red dress and sheer nylon thigh highs, but perhaps if you looked closer you''d notice that I''m wearing latex socks over my stockings. Soon I''m pulling on latex gloves as well and dragging you inside my room so you can watch up close and personal. Didn''t you notice the bulge in the front of my dress? Here, let me lift it up and show you through my lace panties. And to think, my package is already this big when it''s locked up in a chastity device. Just want until I let my overgrown 8-inch crossdresser cock out for some real fun ;) In the meantime I take advantage of my helpless situation with some extreme CBT. Not for the faint of heart, I kick my own balls so hard I actually collapse the table I''m posing on! Oops (don''t worry, I''m ok! and I continued the scene to boot). Lacking a table afterwards, I set up a camera on the floor for some extreme close-ups as I stretched my tight little tranny fuck-hole with my biggest dildo. This thing is no joke, it''s as big around as my arm! Sufficiently stretched out I move on to opening my ass with a speculum, giving you a perfect view right up inside me. Really, this is some of the most extreme stuff I''ve ever filmed ;) If you''re still with me at this point I return to some more crossdresser ball busting (safely on the floor this time) until I actually crush my balls to a thick drippy desperate ruined orgasm - look mom, no hands! Of course after a week of chastity one orgasm isn''t nearly enough to drain this sissy in spite of the size of the cum puddle, hehe. I proceed to milk out another lovingly spoiled orgasm, huge globs of crossdresser splooge dripping down my throbbing cock and running in to my now gaping asshole. Quite thoroughly desperate at this point, I sit up and have a totally uncontrolled real orgasm, spurting the last of my sticky cum all over the soles of my stocking clad feet. Here, why don''t you lick this up for me?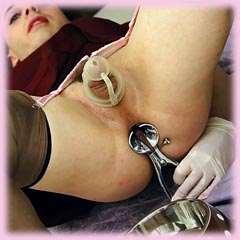 2016-06-17: Thought you were being sneaky peeking in through my window, did you? Didn''t know you were staring at a crossdresser with a bigger cock in her panties than yours, hmm? Well now you''re going to have to sit there and watch the whole show! Some really nice fetishy stuff in this photo series. Some days I''m not even sure where I come up with this stuff :) It starts out innocently enough with vintage nylon stockings and a tight red dress. With my cute curly hair and pouty red lips you might mistake this crossdresser for a perfectly normal 1920''s pinup girl. Until you notice that I''m wearing latex socks over my nylons. Ok, so maybe a really kinky fetish pinup girl. And then that bulge in my panties! Don''t worry though, my scary monster cock is all locked up tight in a little chastity cage. It can''t possibly hurt you. Watch as I kick it mercilessly with my latex clad feet. See? Perfectly safe. I even kick my own balls so hard that I burst my latex socks! Later I stretch my sissy pussy with the largest dildo I own, until it gapes big enough to fit a speculum inside. After some kinky medical play, my clitty bursts free from its chastity device. Oops ;) I then procede to kick my crossdresser clitty to a totally ruined orgasm. Ooh, and then I do it again! Finally with my fingers, cock, balls, and ass completely covered with my sticky wasted cum dribbles I jerk my sissy cock to a third orgasm all over the soles of my nylon stockings. I told you this set was kind of fetishy! :)