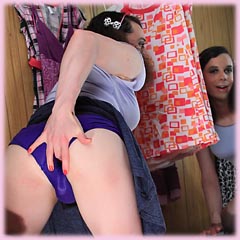 2014-07-13: Teen crossdresser stuffs her panties up her ass. I''m interrupting my regular update schedule for this special member request! One of my favorite long time members asked to see me in flip flops stuffing my panties up my tight ass. So of course I obliged :) I don''t normally wear flip flops, so I decided to go shopping for a new summer wardrobe. Once I found everything I needed for these photos, I got to crossdressing in the changing room. I found a nice pair of panties to stuff in my ass, but I wasn''t sure if they would look right . . . so I had to try them on. And then I had to make sure they''d fit in my ass too. They sure do feel nice. What do you think, should I buy this pair of panties or keep looking? I guess I should probably see how they look when my clitty is hard too. They don''t make my clitty look too big, do they? ;) Well gosh, now that I''m all excited I''m not going to be able to walk around the mall like this. Maybe I can just take care of myself in the dressing room. Do you like watching me stroke myself, showing off my bare toes in my flip flops? Watch as I edge myself and milk out two mini orgasms before finally letting myself cum all over the dressing room bench. Well I can''t just leave a big puddle of crossdresser cum for the next customer who uses this room, so I spread my ass wide and smear my warm cum all over my asshole and balls. Then I wipe up the last of it with my new panties, and suck my juices out of them. Lots of closeups of my cum dribbling clitty, cute painted toes, and bare soles in these special member requested photos. Plus my first ever panty stuffing! What more could you want from a hot young crossdresser?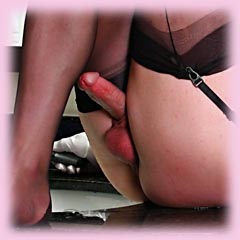 2014-06-27: Playing in the sink with nylon stockings and gloves. Sometimes I get all dolled up in gurl clothes for no reason at all. Like this week when I decided to crossdress in my pink formal dress, garter belt and fully fashioned stockings, and white silk gloves just to dance by myself around my hotel room :) Don''t worry though, I never feel lonely with the video camera rolling, knowing that soon all my members will be watching my sexy little show, grabbing their cocks and jerking as I''m rubbing my engorged clitty with my silky soft gloved fingers. Ever seen a crossdresser finger her ass with a silk gloved finger? Once I''m done toying with the water (and the camera), I get down to work toying my ass with a big blue dildo too. Enjoy lots of close-up feet photos of my stockinged toes and soles as I fuck and jerk myself to an epic orgasm. And of course after spurting my thick load all over the sandalfoot soles of my stockings, I take time to lick my own xdresser spunk off my nylon feet before dribbling it back down over my silk gloves. Want to join me in my hotel room next time? ;)
VIDEO - 2014-06-14: Young crossdresser in extreme bondage play! Katie-Ann awakens to find herself in a strange warehouse filled with sex toys. She quickly becomes turned on by her surroundings, until she realizes that whoever left her here has locked her swelling clitty in to a cruel chastity device. And that''s just the tame part of this video ;) Watch me be fully catheterized while still locked in my birdcage - my chastized clitty twitches uncontrolably, unable to get hard, and unable to stop my captor from extracting my golden nectar against my will. To make matters worse, he tucks my catheter in to my own nylon stockings and then mercilessly fucks my virgin ass with a purple dildo. As the toy plunges in to my tight crossdresser ass and presses against my bladder, my sweet piss gushes from my catheter and trickles down my stockings. Just when I don''t think I can handle another second, I am mysteriously released from my chastity belt. I jerk my clitty furiously, but soon the birdcage is replaced with a nylon stocking over my cock and balls, and a length of silk rope is tied around them forcing me to stand erect but unable to feel anything at all. I don''t think I''ve ever been as horny as the moment when I was finally released from my CBT rope bondage. But alas, I''ve been given anal ease instead of lube to jerk with. Nooo, I can''t feel anything now! I cry out as I desparately slap and beat my desensitized clitty, smacking it on the table, rubbing it against my pantyhosed feet. How did such a cute innocent looking crossdresser turn in to such a desparate whore? I even try to milk an orgasm out of my prostate. Somehow I have to release my massive swollen crossdresser balls. See the desparation in my face as I furiously stroke myself until finally . . . finally . . .YES. I unleash a massive load of cum all over my piss stained stockings in an incredible closeup cock erruption scene. Enjoy my wet cum covered brown stockings as I wriggle my toes at the camera after my orgasm, then peel them off to lick up the mess. Is that what you wanted to see, captor? Well I hope you enjoyed the show, as I pull my messy stockings back up my long legs and slip my warm cum-covered foot back in to my sexy innocent heels. I''m sure you''ll spend many hours jerking off to the video you made of me locked in your warehouse. It''s the longest crossdresser video I''ve ever made, a full 45 minutes of hardcore action. Now if you''ll excuse me, I have a date tonight. I hope he doesn''t mind the cummy mess you forced out of me all over my clothes ;)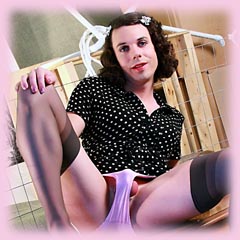 2014-05-30: Extreme crossdresser bondage! Teen crossdresser Katie posing in a vintage outfit complete with nylon stockings and pinup lipstick. Where am I? Tied up in this strange warehouse. How did I get here? Oh my god, what''s in my panties? Where did this come from? I have a cock! But it''s locked up in this strange chastity device. No, wait, a catheter? Please don''t... it''s getting all warm in my panties. I''m peeing myself. All down my thigh highs and in to my socks. Oh good, I''m being unlocked. Wait, why are you tying my clitty up in my socks. Stop, please, you''re making my clitty grow huge! Why are you trying to turn me in to a tranny? Stop, I''ll do anything you want, just don''t . . . oh no. It''s so big already. What am I going to do with this giant cock? I can''t even hide it under my dress anymore. I guess I''m just going to have to drain this cock all over my stockings. Want to see all the details of my bondage transformation? Of course you do ;)
VIDEO - 2014-05-25: Teen bride has a cock under her wedding dress! It''s all locked up in a chastity belt right now, but luckily a devoted fan has sent me a key ;) Here I was, trying to learn how to be a good housewife for my husband-to-be when a strange package was delivered to my bridal suite. Of course my fiance doesn''t know about my sordid crossdressing past, he thinks he''s about to marry a good wholesome girl. Lucky for me, I have very dedicated fans who understand that I could never be satisfied with only one cock for the rest of my life. But I''m all dressed for my wedding when the package arrives. The ceremony is about to start, I couldn''t possibly unlock myself now . . . Oh, who am I kidding, you all know what a naughty crossdresser I am! Just before my wedding I fuck myself silly with a glass dildo given to me by an old flame, then unleash my cock from months of chastity. Just one last time before I get married. And then I explode my tranny seed right in to my fiance''s champagne glass! Oops, he doesn''t even know I''m a crossdresser yet! I guess I should clean that up . . . and of course as I''m lapping up my cum and sucking it out of my boyfriend''s glass, I dribble my cum all over my wedding dress. Well . . . I guess I won''t be getting married today after all. No sense in wasting this beautiful wedding dress though. Come over here, I could use a real cock on my wedding night ;)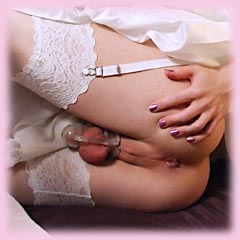 2014-05-16: Xdresser''s wedding night! Ever dream of discovering that your bride is a hung crossdresser in disguise? Well now you can live out your fantasy through my sexy wedding photos :) See? I''ve kept my crossdresser clitty in chastity for you right up until our wedding day. Go ahead, you can unlock it. Oh, are you worried that I don''t have a pussy to fuck? It''s ok, you can use my ass, I don''t mind. Here, let me get it ready for you with this glass toy you got me as a wedding gift. See, it works just like a pussy. Go ahead, slide your cock in. Just go slow, it''s my first time ;) Are you enjoying my ass pussy? Oh wait, don''t cum yet! Here, we should both cum in this glass. I''ll drink our cum cocktail to consumate our marriage. I think you''re going to enjoy being married to a tranny ;)
VIDEO - 2014-05-04: Crossdresser learns to cook! Ok, not really, but I think you''ll like what I''ve been making in the kitchen - wet panties and cummy pantyhose ;) How would you like to come home to find a gorgeous xdresser sprawled across your kitchen countertop with a dildo up her ass? I bet you wouldn''t mind that I couldn''t figure out how to cook your dinner. Actually this happened to be a brand new countertop and cabinets that I was having installed, and it just looked so clean and shiny that I had to break it in properly by doing a video on it. A bit of talking in this video, some water poured over my panties, some very explicit tucking scenes (you might mistake me for a real girl for a few minutes!), LOTS of dildo play including an extensive scene of me sucking on my large glass toy, and of course one of my famous crossdresser cumshots to finish it off. Today I shot my load all down my printed tights and mary janes. I even have a two part orgasm, so you know you''re going to see a TON of spunk in this video :) I wriggle my toes a little so you can see the cum dripping off of my pantyhose before licking up the drops the hit the countertop. Don''t worry, there''s plenty for me to share with you ;)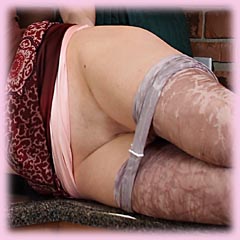 2014-04-26: Teen tranny tricked. Of course I''m an ordinary girl, see? Nothing hiding in my pantyhose ;) Now sit down and enjoy this dinner I''ve cooked for you - I have a very special surprise for dessert. Don''t you love when a girl gets all dressed up for you on date night, cooks you dinner, and then slowly lifts up her skirt and asks you to fuck her in the ass? As convincing as I may look, eventually I can''t keep my crossdresser cock tucked any longer. Well, guess my secret''s out. I just got too excited with this thick glass dildo up my ass. It''s ok, just touch it for me. You can still fuck me in the ass and pretend I''m a girl. No one has to know that your date is really a hung tranny, it''ll be our little secret ;) Oh, and that reminds me, your dessert is almost ready! Open wide ;) These crossdressing photos also include me playing in the sink and pouring water on my white panties (think wet t-shirt contest), and finally icing my printed tights and mary jane heels in one of my famous massive cum shots. And of course I wouldn''t want your dessert to go to waste, so I help you lick my cum up off the counter too. Bon appetit :)
VIDEO - 2014-04-18: Xdresser Katie soaking her girly clothes in the shower. I love the feel of wet pantyhose clinging to my skin, but why stop with just wet pantyhose? In this crossdressing video I soak every inch of my clothes, from my sweater to my skirt to my strappy sandals (and of course everything in between!). The video starts with some pee desperation in the hallway. I actually started peeing my panties uncontrollably as I walked over to turn the camera on, so watch closely as I dribble and squirt with every step. I finally get myself partially back under control and put on a nice pee pee dance before losing it again and flooding my skirt and thigh highs. Watch my golden nectar dribble down my long crossdresser legs in to a giant puddle on the hotel room floor! Once the worst of it is over and I realize what a giant wet mess I''ve already made, I sit down on the floor and give you a nice show as I empty the rest of my bladder up in the air, in to my shoes, and even all over my own face. Soaked from head to toe, I head over to the shower just to make sure I haven''t left a single inch dry. Then I soap up my body with all of my girly clothes still on and stroke my crossdresser clitty in my wet soapy mess of an outfit :)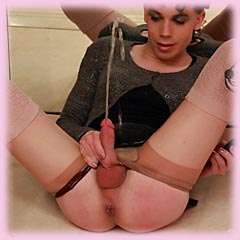 2014-04-01: It''s a tgirl pee party in my pantyhose! I love crossdressing in hotel rooms because I get to live out all of my fantasies no matter how naughty they are ;) This time I decided to drink as much water as I could and hold it in for hours. By the time I got dressed and had the camera rolling I was squirting pee with every step I took in my high heels. If you look carefully you can tell where I completely lost control at the beginning of these photos and my warm golden nectar was gushing out of my pantyhose and down my legs. But in case you miss it, I let loose with plenty of more deliberate gushes for you :) By the end of this set my socks, pantyhose, skirt, and panties are all completely soaked in my crossdresser juices. So naturally I strut over to the shower and soak my girly clothes even more ;) I hope you enjoy my absolute wettest set ever!