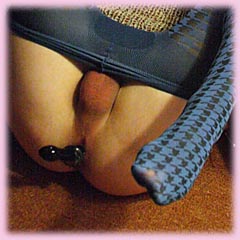 2014-12-13: Kinky German crossdresser gets a sloppy cum facial. Greetings from Germany, where I have been busy visiting Christmas markets and plastering my pretty face with cum :) I''m rather enjoying my time here - the girls wear brightly colored tights, know how to take charge of a little sissy gurl, and have an incredible kinky streak! Unfortunately I didn''t find one who was willing to take photos with me, but I did recieve strict instructions on how to perform in this shoot from my mistress. Watch as I fuck my tight ass pussy with a glass dildo, then trap it inside under my bright blue pantyhose. Meanwhile, I had a LOT of crossdresser spunk begging to escape my swollen balls, and my mistress told me that I had to catch every last drop in my mouth. I think I did a pretty good job, but after swirling my hot sticky load around in my mouth enjoying the salty sweet taste, I started feeling bad that you wouldn''t be able to see how big of a cumload I was about to swallow. So I made quite a show of letting my cum dribble out of my mouth, over my chin and down on my tranny boobs. Probably the sloppiest cum scene I have ever filmed! I hope you enjoy it :)
VIDEO - 2014-11-21: Teacher''s gone, time for some hole-some sissy schoolgurl fun! I may not have quite as many holes as a real schoolgirl, but I bet you mine are better ;) Want some private time with me while teacher is gone? I''ll show you just how naughty I can really be in this very personal crossdressing video. Lots of innocent-sounding dirty talk to the camera as I seductively toy with my marker, crossing and un-crossing my long legs, giving you little peaks up my short plaid uniform skirt. I bet you can''t make it through this video with your pants on! Especially not when I starting giving you a POV blowjob ;) Go ahead and grab my pigtails, it only gets better from here. And you thought that cute little schoolgirl smile with my mouth full of braces was innocent. Enjoy some ultra close-ups of me stretching out my virgin asshole for you before begging you to pop my sissy cherry. If you last long enough you''ll get to enjoy watching me blow my load first. Just promise me you''ll cum on my face, ok?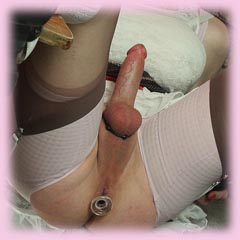 2014-11-01: Busty xdresser in schoolgirl uniform, complete with braces :D It''s been a while since I last dressed up as a schoolgirl, so I thought it would make for a perfect Halloween costume this year. I look perfectly innocent in my pigtails and braces, but my giant DDD titties and stocking tops peaking out from under my short pleated skirt give away my naughty nature ;) Why do you keep staring at me, mister? Is it my cute saddle shoes and vintage knit socks? Or did you notice the 8-inch heels on my patent oxford pumps? Heehee, it''s ok, I don''t mind you looking. Watch, I''ll show you something else - I keep it in my panties ;) By the end of these photos, I have a fat glass butt-plug filling my sissy pussy, and a huge load of crossdresser splooge on my schoolgirl desk. I bet you''re going to have a hot load on your desk by the end too ;)
VIDEO - 2014-10-11: Eastern European crossdresser video! Yup, it''s time for some video from Budapest. You know how kinky those girls from Eastern Europe are, right? Well, imagine what a Hungarian tgirl is like then! Ok, so I''m not actually Hungarian, but you know me, I''m always trying to fit in with the local (sex) culture ;) I bought some thick tights and cotton stockings to wear, and some extra lacey undergarments to pair with them. I think I fit in pretty well as long as you don''t notice my panty bulge. Of course, with all those sexy layers rubbing against my clitty as I strutted around in my cute herringbone pumps, my panty bulge became quite noticeable. It''s hard to keep 8 inches of crossdresser cock tucked out of sight! Pretty soon my bulging cock was swelling up inside my nylon pantyhose, threatening to rip right through the shear material. Did you catch a glimpse of my thick hard package as I bent over to peak out the window in my plaid miniskirt? Oops, well you might as well stick around at this point - I was just about to get comfortable in my hotel room. Here, let me tease you as I take my heels off. Do you like watching my little tgirl toes wriggle in my stockings? Or were you distracted by my engorged pantyhose snake begging to be released? This extra long video contains several extensive fetish scenes. Enjoy me relaxing in real life, getting a little tipsy from an expensive glass of scotch. Worship my feet as I slip my high heels off and peel off half of my nylon pantyhose. Watch as I jerk my engorged clitty encased in my shear stockings. Share my golden shower as I tinkle all over the hotel furniture, and lap up my own sweet juices from the table. Lick my fingers clean after I fuck my tiny little tranny asshole with them, and stare at my fat glass dildo as it stretches my ass-pussy just right. If you''ve lasted this long I will treat you to a super-sized cum load, leaving a thick hot mess all over my pantyhose and the hotel table. Don''t worry though, I''ll help you clean it up ;)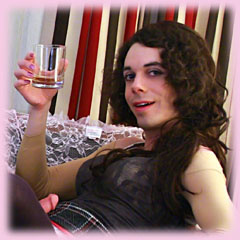 2014-09-26: I''m traveling again, so updates may be a little spotty. I''ll do my best to keep you stocked with the best crossdresser sex on the net though :) This week finds me in Budapest, enjoying a fine glass of scotch along with my glass dildo. What, you don''t always have a dildo with your scotch? You should really try it some time ;) These crossdressing photos are also a foot fetish dream come true with layered pantyhose, stockings, and socks (yes all three!), some beautiful shots of me peeling off various layers of nylon from my cute little crossdresser feet, stockings wrapped around my engorged clitty, and finally a copious and messy nylon cumshot. You''ll also find some impressive photos of me peeing in to my scotch glass :) Hope you enjoy watching me crossdress in Europe this week!
VIDEO - 2014-08-24: Slutty teen xdresser exposes her clitty to the whole club! What a slut, wearing such a short tight miniskirt out dancing. She''s even touching herself on the dancefloor. Oh my god, what is that bulge in the front of her skirt? I think it''s growing. Oh you can''t be serious, that slut is a tranny - that''s her cock bulging out of her skirt! Oops :) Well what do you expect when I wear these tight outfits for you? Eventually the feeling of my shimmery snakeskin tights caressing my clitty is going to get it all hard. And then the whole world will know that I have a cock in my panties. It''s not like I can just hide this thing - 8 inches of cock is going to show no matter where I stuff it. And speaking of stuffing 8 inches, I could really use something to fill my slutty asshole right now. I''m just going to loosen myself up a bit while you go and get us some drinks. Hmm, now what could I use to stretch my ass out with . . . Oh, perfect these pointy heels are just the right size. And no, I don''t mean the stiletto heel. Watch as I stuff half of these shoes up my quivering crossdresser ass. How''s that, do you think you''ll fit inside me now? Good, because I want you to stuff your cock in my ass. Right. Now. Mmm, now jerk my clitty as you fuck me, that''s it. Do you like it when I run my nylon encased toes over your sensitive balls as you burry your cock in my tight ass? Ok, now hand me my magic wand. I want to cum while you pump my sissy cunt full of your hot spunk. Oh god, I''m getting close. Where am I going to blow my load? Catch it in my shoe? Well . . . alright, since you asked. Mmm, cum for me as I fill my black pumps with my own gooey crossdresser sperm. Don''t worry, I''ll clean up both of our messes ;)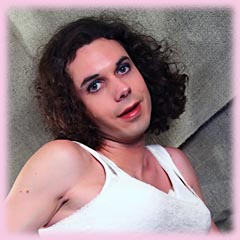 2014-08-16: Punk sissy gurl forced to cum in her own shoe. I was probably asking for it, sitting in a dark corner of the fetish club, rubbing my crotch through my snakeskin tights. It wasn''t until I peeled my pantyhose down over my ass and popped the fat head of a glass dildo in to my sissy pussy that she really took note of me though. I figured she just wanted a better view as she slid up next to me at my table. She must have seen the bulge in my pantyhose from across the room though, because the first thing she did was grab my crotch hard and drag me closer using my swollen clitty like a leash. ''Listen here, sissy gurl. I''m going to make you cum, right here in front of all these people. Everyone in the club will know about the dirty secret in your panties. In fact, I''m going to make you cum in your own shoe so you have to walk home feeling your warm spunk squish between your toes.'' Before I could protest, she had pulled my cock out of my tights and was stroking it until it was rock hard. There was no hiding now, everyone in the club could see that I was a crossdresser. My new mistress spanked my bare ass with my own stiletto heels, but I know how to control myself no matter how engorged my clitty gets. At least that''s what I thought before she pulled out a magic wand and brandished it at my quivering tranny shaft. I gasped as she pressed my cock in to my shoe, holding it in place with the mercilessly vibrating toy. I couldn''t take it, and my mistress knew it. Soon I was filling my black pumps with huge gushes of sissy sperm. So much cum that it flowed over the edges of my shoes, spilling on the table. ''Clean that up,'' she instructed me. ''Now, go walk home in your spunk filled sissy heels and think about what you''ve done. I''ll see you tomorrow night.''
VIDEO - 2014-08-03: Crossdresser soaks her cuban heel stockings and ballroom gloves. What can I say, I like to be wet and messy ;) If this crossdressing video''s theme seems to be a little random, well that''s because it is. I picked my outfit because I liked the way the materials felt, my hotel room happened to have this nice sink with a giant mirror, and I was in the mood to get my nylon thigh highs all wet. You''ll probably notice in a couple places in the video that I get distracted rubbing my silk covered fingers over my feet and legs, or letting the soft fabric of my party dress caress my upper thighs. That''s how you can tell I was really enjoying myself :) Of course I also spent plenty of time rubbing my clitty with my ballroom gloves too, stroking myself furiously and plunging a long blue dildo in and out of my tight sissy pussy. I even fuck my ass with a gloved finger near the end of this video. In fact, I enjoyed feeling that silky material slide up my asshole so much that it made me cum all over the reinforced soles of my full fashioned stockings. Watch me lick my wet toes and suck my own cum out of my stockings at the end of this video. Or just enjoy me playing in the sink washing my feet with my thigh highs still on. There''s something for everyone, especially if you love crossdressers and have a foot fetish :)
VIDEO - 2014-07-27: Panty stuffing, ass fucking, barefoot crossdresser cum fest! Yup, this is one epic video thanks to a special request from one of my members. I always get so turned on doing special requests, and it really shows in this video :) Lots of flip-flops and bare toe closeups, and plenty of talking dirty to the camera. I even instruct you to lick my toes for me! Meanwhile I''m busy fucking my xdresser ass with my panties still on, stuffing that soft fabric deep in to my asshole. Once I''ve stuffed my panties every way I know how, watch me use my talented toes to give myself a nice barefoot footjob. No cumming yet though, you''re only halfway through! After a bit more spanking, jerking, and ass fucking, I bring myself right to the edge of orgasm . . . and then stop just before a tiny little dribble of cum works its way out of my desperate cock. You''ll get to see my ruined orgasm in a super close-up shot - you can practically see right up in to my my clitty! Don''t worry, I''m not about to leave you hanging with just a dribble of my cum, I know how much you love to see me shoot those massive ball-draining loads of crossdresser spunk :) Instead, I ruin 3 more orgasms for you before finally topping it off with a desperate cum eruption. Yes, that''s 5 total orgasms in this one crossdressing video. And what do I do with that sloppy puddle of multiple cum loads? I sit on it with my ass spread wide, squishing my own hot cum up in to my still shaking ass. And yes, there''s a great closeup of my cum dripping asshole too :)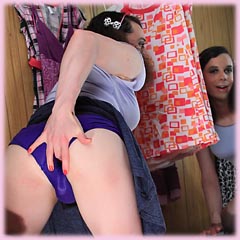 2014-07-13: Teen crossdresser stuffs her panties up her ass. I''m interrupting my regular update schedule for this special member request! One of my favorite long time members asked to see me in flip flops stuffing my panties up my tight ass. So of course I obliged :) I don''t normally wear flip flops, so I decided to go shopping for a new summer wardrobe. Once I found everything I needed for these photos, I got to crossdressing in the changing room. I found a nice pair of panties to stuff in my ass, but I wasn''t sure if they would look right . . . so I had to try them on. And then I had to make sure they''d fit in my ass too. They sure do feel nice. What do you think, should I buy this pair of panties or keep looking? I guess I should probably see how they look when my clitty is hard too. They don''t make my clitty look too big, do they? ;) Well gosh, now that I''m all excited I''m not going to be able to walk around the mall like this. Maybe I can just take care of myself in the dressing room. Do you like watching me stroke myself, showing off my bare toes in my flip flops? Watch as I edge myself and milk out two mini orgasms before finally letting myself cum all over the dressing room bench. Well I can''t just leave a big puddle of crossdresser cum for the next customer who uses this room, so I spread my ass wide and smear my warm cum all over my asshole and balls. Then I wipe up the last of it with my new panties, and suck my juices out of them. Lots of closeups of my cum dribbling clitty, cute painted toes, and bare soles in these special member requested photos. Plus my first ever panty stuffing! What more could you want from a hot young crossdresser?