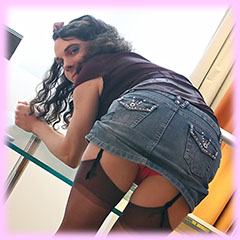 2018-02-05: The problem with a multi-orgasmic crossdresser is she just doesn't know how to stop! You'd think every now and then she could have the decency to only cum once in a set of photos, but noooo, there she goes again spunking on every surface within reach of her overgrown clitty. I called this set Cum Everywhere for a reason. 4 orgasms isn't quite a record for me, but I shoot each of these loads on a different surface (many of them my clothes), and then splatter, smear, and spread the cummy mess over everything else I see. Sound like your kind of crossdressing fun? Well let's start with a hands free orgasm brought on by me tugging and smooshing my balls on the table. With my engorged clitty pole free to flap in the wind, splatters of this cum load ended up halfway across the room ;) But you'll probably be most focused on the strings of tranny splooge running down my nylon rht stockings and the nice puddle dribbling down on to the glass table. Speaking of stockings, I bet that warm jizz would feel great between my nylon encased toes... let me just wipe that up with my sexy soles and slide around in it for a bit. Do you like the jizz bubbles in my stockings? Ooh, well now that my strappy sandals are off, I should make use of them for orgasm number two. By spanking my nuts until I blow a load all over my black silk dress shirt. Oops, I bet those cum trails are going to be pretty noticeable, hmm? And yes, I just spanked myself to an orgasm. Maybe I should be more gentle with orgasm number 3. Here, let's slide on these soft lycra panties and gently rub and carress that poor clitty. Now pull it back tight between my legs and... oops! There goes another load of cum, milked right in to my panties like I'm some kind of sperm cow, hehe! My cummy panties do feel awfully nice when I pull them up though, my own hot sticky spunk squishing against my clitty and balls. And of course I can still feel my toes trapped in my cummy stockings too and sliding around in my sandals that I put back on. I'm not sure I could get any more wet with cum unless I had a bathtub full of it, so I guess it's time for my last orgasm. I pull out a condom and roll it over my clitty to squeeze out one last load of spunk. Why? Because I want to suck it out and dribble cum over my face like the dirty crossdressing cum slut that I am ;) I told you - Cum Everywhere!
VIDEO - 2018-01-07: Nothing but 5 ruined orgasams for this spoiled tranny princess! That's what happens to naughty gurls. Get ready for some super kinky CBT in this crossdressing video. I've spent all day with my clitty and balls wrapped up tight in plastic wrap and fresh ginger, punishing myself for having such a big clitty. But it keeps swelling and getting bigger no matter what I do! I twirl about in my long lacey skirts all in a tizzy, but what's a gurl to do? Maybe you can help? Here, let me show you the problem. I hike up my dress, my petitskirts, and my hoop skirt and shimmy out of my bloomers to show you one very engorged cock. I do have some bindings we could wrap it up in, maybe that would help. Wind it tight, and don't forget to squeeze those balls too. Now, we're going to have to beat the naughtyness out of me, ok? With my clitty and balls bound tight they won't be able to go anywhere to escape the beating. Here, watch as I give my tranny nuts a good hard kick with my stockinged heel. Then as I get my leg swinging a bit harder I start slapping my balls with my soft nylon encased soles until all of a sudden. Oh, what was that? Yup, a little tiny ruined orgasm with just a little bubble of cum squeezing out the tip of my big purple cock head. Well, there's probably more in there, but it's all trapped thanks to the bindings. Don't worry, I'm sure it'll ooze out and dribble down my pantyhosed legs later ;) In the meantime, back to kicking my balls! Lets try kicking my clitty too, and maybe stomping on my cock a bit. Oh, that didn't take long. See, I knew there was more cum in there. What a pathetic dribbly river of spunk, but there sure is a lot of it running all down over my cute little ass and everything. Sadly for as much cum as I've pumped out I've just gotten more horny and swollen. Both my crossdresser clitty and my balls have turned purple now, and just the slightest caress of my stockinged toes over my throbbing skin makes me tremble. I wonder... yup, a gentle footjob to the balls ruins orgasm number three. Finally I realize how much cum I'm leaking everywhere (if only I'd been collecting all of it up to now!) and grab my shoes to catch orgasms number four and five which cum in rapid succession. Whew, I think I'm finally spent. Thanks for your help, mister ;)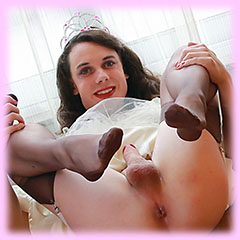 2017-11-27: Katie-Ann is the naughtiest princess in the whole land. Nothing the King and Queen do will keep her clitty from growing, and the bigger it gets, the bigger the trouble it gets Princess Katie in! Today I'm locked in my tower wearing my punishment panties to try and keep my clitty in check, but I can still feel it throbbing and growing. What are punishment panties? Well here, I'll show you. Just let me slide out of my hoop skirts and hike up my petticoats... hey, you're not going to try and get me in any kind of trouble, are you? Well anyway, these are my punishment panties. See, underneath my tranny clitty is all wrapped up in plastic wrap with sliced ginger. The queen says frigging is good for me. I think it tingles and burns, but sometimes it just makes my clitty hard anyway. I think I'm going to have to find something tighter to wrap up my naughty clitty in today - it's already breaking its way out of the punishment panties. Here, give me a hand, will you? This should really teach it a lesson. Pull it tighter! Oh, woah, I think we made it mad! It's turning purple and soooo hard now! Oh now I'm really going to have to punish it... Watch as I kick my swollen purple balls with my soft stockinged soles to one... two... three ruined orgasms to drain them of their naughtyness! Actually, that last orgasm might qualify as a real one complete with squirting and a shoe full of cum. But no touching other than some well placed kicks to my balls. Talk about some serious CBT!
VIDEO - 2017-10-31: Sexy secretary Katie-Ann offers desk side ball draining services, and looks like you're going to be her first client today! While wearing stockings and heels to the office every day seems to get me pretty far in life, it can be a little problematic when the boys spend more time staring at my long sexy legs than they do actually working. I mean, I realize it must be tough working all day in close quarters with a beautiful crossdresser pornstar, but sometimes I have to, well, take matters in to my own hands. When a coworker drools over me a bit too much I have to call him over, give his nuts a good squeeze so he remembers who's in charge around here, and then rub one off for him all over the soft soles of my stockings. Then for the rest of the day whenever he looks my direction I can teasingly slip my foot out of my shoe and show him the strings of his jizz still stuck to my tranny toes. That usually works pretty well to keep everyone in line around the office. I feel bad for the guys, draining their nuts in such a business like manner, but what's a gurl to do? So I decided I'd make a video and email it out to the office showing the consequences of spending too much time staring at your crossdresser coworkers. I really hope it works, because I don't know how much more cum I can fit in my shoes... By the way, there's no sound in this video. It's not your computer. Sorry about that!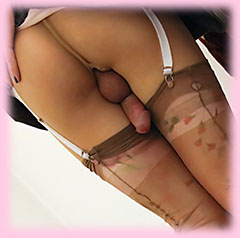 2017-10-23: Sorry, Charlie, it's all business with this orgasm ;) There won't be any fun in this office as I strut in front of my desk in my sharp white stiletto heels, click, click, click across the wood floor. You see, I hear you have a bit of a performance problem, and I intend to fix it right here and now. I'm not one to sit behind my desk all day and just talk - I'm a woman of action. As I scoot up on the desk and cross my legs you catch a glimpse of the long lines of my back seamed stockings disappearing under my A-line skirt and wonder what kind of action a gurl like me might have in mind... don't worry, you won't have to wait long to find out. Soon that skirt is riding up over my hips to reveal a soft satin slip and a second pair of patterened stockings underneath my cuban heeled nylons. And beneath than a pair of sheer Wolford pantyhose. What in the world did I have in mind when I came to the office today?! As I slip my lace panties aside you quickly discover exactly what kind of action gurl I am though. What you thought was going to be a sultry tryst with your boss becomes a lesson you won't soon forget as you find yourself faced with a raging hard cock throbbing out from under my panties. Oops, how'd that get in there? ;) Now lick my heels and worship my toes as I kick and crush both your balls and my own in some naughty crossdresser office cbt play. When you're ready to cum, make sure you squirt it on my soles so it mixes with my spunk. I just love walking around the office all day with cummy feet in my high heeled pumps!
VIDEO - 2017-08-05: Crossdresser Katie fills her ass with bananas and learns about figging! I really had a hard time with this video. I was trying so hard to be cute and innocent while teaching you about fruits and veggies, but I was feeling ever so naughty! Hopefully you don't mind too much as I switch back and forth between my innocent bubbly teen voice and begging you to punish my dirty boy balls by whipping them with a ginger strap. Yes, I might have really said something along those lines to the camera during this shoot ;) I definitely got caught up in the sensation of my tight teen ass being packed full of bananas and forgot my manners a few times, hehe. You'll also get to enjoy some excellent footage of me spanking my balls with a massive carrot before stretching my ass wide (really wide) with its 2-inch girth. Plus some brutal self ball-busting kicks - you can really see my tranny nuts bouncing around and swelling from this extreme CBT video. In addition to the beautiful close-up shots of my crossdresser ass getting fucked and stuffed with carrots and bananas, and some pretty hefty ball busting, I take things one step further in this video by introducing figging. Figging is a form of medieval torture involving fresh ginger which burns and stings when it contacts sensitive parts. And while anal figging is fun, today I decided to make a urethral sound out of ginger and insert it deep inside my clitty! WOW does that tingle. That's the point where things got a little out of control ;) After some desperate ball kicking, spanking, and ginger slapping I decided to force a second whole banana up my sissy pussy. After swallowing both bananas whole up my ass I could barely move without risking cumming everywhere. The feel of my nylon-encased legs rubbing against the hem of my cute satin dress was about all I could stand. The perfect time to wrap up my clitty in plastic wrap with a few extra slices of burning ginger and pull my purple rhumba panties back up. I definitely won't be forgetting what a naughty gurl I was today!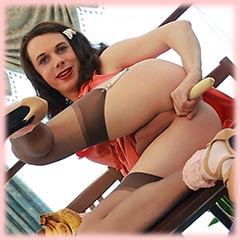 2017-07-17: Katie-Ann sure knows how to get her fruits and vegetables! My newest ultra high def photos will show you how I stay so fit and sexy - I get plenty of fruits and veggies every day ;) Of course, each fruit or vegetable has it's own role to play in a balanced diet, and it's important to know what each one is good for! Today I'll be introducing carrots (monster-thick mutant carrots that is), bananas (especially double penetration bananas!), and a secret mystery root good for keeping unruly crossdressers in line ;) Bet you never knew that good nutrition could be this much fun! Dressed in a super sissy outfit of platform sandals, lace anklet socks, and sheer nylon stockings under a flirty silk dress, I could totally be the star of a kid's TV show... but shhhhhh - this show is for adults only! Oops, did you get a peek at my purple ruffle rhumba panties? Sigh, ok ok, I'll take them off and pass them around so everyone can get a sniff. Hey! No licking my panties, sniffing only - there will be plenty of time for licking after our lessons ;) Ok, so first up are carrots. Big, fat, 2" wide carrots. I have no idea who grew these things, but clearly they knew what carrots are best for. That's right, stretching! A nice carrot fucking keeps my virgin sissy pussy well dialated so I can accept even the biggest of toys. Once my ass is comfortably stretched, it's time to move on to our next superfood - bananas. I don't care how much banana-fucking you've seen before, you're going to want to watch me take this entire banana deep up my gaping ass until... until... yep, I swallowed the whole thing (plus a couple fingers for good measure). And let me tell you, there are some really good photos of that banana disappearing inside of my virgin crossdresser hole ;) Ok, so are you ready for the mystery root? It's kind of big and knobby and hard... just the way I like it. Well, let's slice it down a bit to get a nice firm 6-inch stick. Ooh, can you smell it? That's raw ginger. It was used in a popular form of medieval discipline called figging - a plug of raw ginger was inserted in a victim's pussy or ass to induce a violent burning sensation. But I bet it would be even more exciting as a urethral sound! That's right, watch as I insert a 6-inch long piece of ginger right up my clitty. And just to make sure I can feel it, I wrap more ginger slices around the outside of my raging burning cock and encase the whole thing in plastic wrap (if you don't know, this intensifies the burning sensation - don't try this at home!). Finally, shaking and burning and desperate, I stuff a second banana (yes, that's a banana dp) up my tiny crossdresser ass. Barely able to stand, I squirm back in to my frilly sissy panties and strut off stage, nearly cumming in my panties in the process. How's that for a food fetish? ;)
VIDEO - 2017-07-06: You didn't know your girlfriend was a tranny!? I know Katie-Ann's a cute little thing, but all the girls at school talk about how her clitty is longer than their boyfriends' cocks! I can't believe you didn't know until she asked you to go down on her. So, um... what was it like? Everyone's been wanting to hook up with her to see for themselves, but you're the first to go all the way... you did go all the way, right? Uh huh, you definitely get to go all the way in this video ;) If you've ever wondered what it would be like to be tranny tricked by your school sweetheart, you are really going to love this interactive film. My parents aren't home today, and it's our first time together. I boldly flash my girly panties at you, but I'm nervous about pulling them down... you first! Enjoy the POV angle as I pull your boxers down and your real man cock pops out. It looks surprisingly like... well, nevermind. I've got something special for you that I want to try. I give your prick a few sensual sucks before announcing that it's my turn. I guess your precum really set me off, because I'm out of my panties in no time, showing off my cute little muff that I trimmed up for you this morning. You'd think I was a real girl, but you're having a hard time finding my clit down there... Oh! There it is :) I hope my overgrown clitty didn't smack you in the face too hard... You're still going to fuck me, right? It doesn't matter that my clitty is bigger than your cock, I still want to feel you inside me. It's going to be really special. Oh, before I forget though, we better use protection so I don't get pregnant. Err... maybe we should both use protection ;) Ok, now be gentle with me... This crossdressing video climaxes with some intense condom play as I pull my rubber all the way over my big swollen balls. Soon your cock in my ass is enough to push me over the edge hands free as a huge bubble of cum forms in my condom. And then between your warm cock and the pressure on my balls I orgasm a good 10 seconds after my ruined orgasm, still without any stroking. This was completely unplanned as you can tell by me desperately trying to hold back! Well, what can I say. Good thing both of us wore protection ;)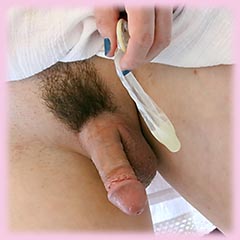 2017-06-08: Teen crossdresser learns about safe sex... sort of :) So, my parents aren't home and I was thinking... maybe today would be a good day to, you know, do it. I wore my thigh high toe socks for you today, I know how they drive you crazy ;) Oh, and I found these condoms in the girls locker room, I guess we should probably use them. C'mon, pull your pants down and get ready! Wow, that's a nice looking cock you have. Here, I want to try something I read in a magazine. Close your eyes. Glmph. Gulp. Mmm. It tastes good. Do you like when I suck on it? Ok, my turn! Don't be shy, pull down my panties! My clitty? Oh, it's right here, I always tuck it in my butt during the day so it doesn't bulge out of my panties. Big? Well, I know it's a little bigger than most girls, but... oh, I think you're making it grow! Oh my god, I think it's even bigger than your cock, hehe! No, no, it's ok. I guess you've never been with a crossdresser before, huh? You're still going to fuck me, right? But maybe we should both wear these condoms ;) Ok, now put your cock in my ass, go on. Oh. Oh shit that feels good. Oh... Watch young crossdresser Katie-Ann blow her load while being fucked in the ass without even touching herself. Ok, so it was a bit of an accident, but I was desperate to cum, and the combination of my prostate being probed and that tight condom squeezing the hell out of my tranny balls just sent me over the edge! Enjoy the sexy crossdressing photos :)
VIDEO - 2017-05-17: Your crossdressing mistress just raided your wife's panty drawer! What're you going to do about it? Yup, that's right. I stole these wool tights from your wife, and took her knee-high boots too. I even made a little modification to her patterned tights to accomodate my panty bulge ;) You love me enough to let me keep them, don't you? I mean, I look better in these boots and tights than your wife does anyway. You can have her panties back though, now that I've dribbled pre-cum all over them. Think about my juices rubbing against her pussy next time she wears them, ok? What, are you going to punish me for stealing your wife's clothes and crossdressing in them? I just... ow, hey! That boot's really heavy, ok? And my tranny balls... oof. Oh god, I'm getting all hard from you kicking my balls with your wife's boots! You know how I like CBT. It hurts, but I can't help getting turned on. And now I have to kick my own balls with my boot-socked feet? Yes sir... Harder? I... oh shit, I'm going to cum from kicking my nuts with these socks on... no no no, don't stop! And that's just the begining of the cock and ball tortuture in this extreme crossdressing video! Next up is a bit of ass fucking with a double-sided dildo, while I use the other end to slap my balls. Then comes an extreme 1/4 inch urethral sound to dialate and plug up my poor tranny cock. Finally there is a sensual tease and denial session, bringing me right to the edge of climax in super closeup... and then an incredible ruined orgasm a good 7 seconds after I stop touching myself ;) Ok, to be fair this one is only semi-ruined - I had fully intended to have a retrograde ruined orgasm with the urethral sound firmly plugging my engorged clitty, but the force of my semen building up shot that sound out of my cock like a rocket! And the sensation of the heavy steel sound surging down my urethra was enough to put me over the edge and orgasm... sort of. It was still intensely un-fulfilling, don't worry (you can tell by the way I stay hard and keep trying to rub my cock afterwards!). But I did create a pretty impressive gyser of cum too. I suppose that's the best of both worlds ;) In fact, I was still soooo horny after I finished this crossdressing video that I needed to cum again. And the idea of kicking myself to orgasm earlier was such a turn on that I decided I'd go all the way just by kicking my balls with my stockinged heel. So while I was downloading the files for this shoot, I set up my video camera again and recorded a candid film of me totally crushing my nuts to orgasm. I think it's pretty impressive, so I included it in this week's update :) Enjoy the bonus footage!