VIDEO - 2013-12-02: Sexy cummy pantyhose, my favorite kind! :) This crossdressing video is for feet and pantyhose lovers only. Don''t say I didn''t warn you ;) These shear Wolford pantyhose are just amazing - it looks like I''m not wearing anything at all on my legs until you get a peak of that sexy cotton gussett under my skirt. Doesn''t it make you just want to reach out and touch my nylon clad legs? Don''t wander too far up my thigh though, or you''ll find another surprise! My xdresser clitty is straining against my tight pantyhose, bulging halfway down my leg. I was really horny when I shot this video for you, because I was making it for a special member. Well, and because I was all excited from stealing Allie''s pantyhose from her lingerie drawer ;) So if you like crossdressers with huge cocks, you''ve come to the right place. Did I mention how horny I was for this video? Halfway through I start desperately fucking my stockinged foot and sandal, and I quite nearly shot my load early, right on my own sole. I barely held it in for a special pantyhose fucking. I took a pair of my black fully fashioned thigh highs and slipped them over my arm to rub my clitty with. And then I pulled my thigh highs over my cock and jerked off in to them. Don''t you love the way my white spunk shows up so well on my black nylons? :)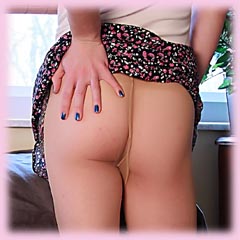 2013-11-22: Teen crossdresser in pigtails and Wolfords. There''s nothing quite like a shear pair of Wolford pantyhose. You just have to try them to understand - such perfectly smooth nylon, it''s like silk caressing your legs and toes . . . not to mention your ass, inner thighs, and . . . well, you know ;) My pantyhose are so shear, you can barely tell I''m wearing them until I peel down my panties to show you my clitty straining against the lycra material. And for those of you who love layers, I''m also wearing European crochet socks over my pantyhose and high heel sandals so my cute little socked toes can peak out :) Speaking of layers, watch as I pull a long black nylon thigh high up over my tgirl cock. I just can''t get over how all this nylon feels rubbing everywhere on my teen body. I can''t help it, I have to touch myself a little. As my fingers caress my nylon excased cock I surge to full attention. Oh no, this hardon is never going to fit back in my pantyhose! Well, I guess there''s only one way to fix an overly horny xdresser - you just have to give in and milk those massive balls dry. My thigh highs are already completely soaked with pre-cum, so I might as well finish off and shoot the rest of my load in them too. I was surprised by how well they held in my spunk. You''ll be able to see in the video each surge of cum straining to break free of the nylon. It certainly wasn''t for lack of trying that my cumshot didn''t show up in the photos! Don''t worry, I turn my sock inside out to show you the mess I''ve made. That''s one huge puddle of crossdresser jizz :)
VIDEO - 2013-11-10: Mushrooms everywhere! What''s a princess to do? I tried licking them, and they got all wet and ran away for a bit . . . but they just kept coming back, trying to get up my skirt! Honestly, what do mushrooms want up my skirt anyway? Oooh! That''s my butt! Oh, I get it, these mushrooms are just like the ones on my boyfriends. They just need to squeeze inside my tight sissy pussy a few times and squirt their sticky mushroom seed because they''re so swollen. I understand, because I have a giant mushroom under my panties too :) I guess you can play with my tgirl clitty while I''m taking care of these thick mushrooms. Mmm, it feels good having my cock stroked while a giant mushroom head pops in and out of my crossdresser ass. Yeah, just a few more strokes, and . . . ohh . . . I''m cumming! All over my cupcake panties. Well, at least my clitty squirts tasty icing :) Watch as I suck all of my sticky cum out of my panties for the camera.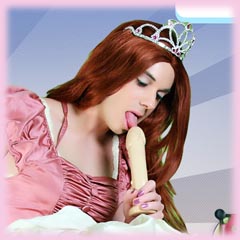 2013-10-23: Crossdressers love Halloween! This year I decided to be a little more cutsie with my costume than most years. Recognize me? I''m Princess Peach from Mario. Well not really, maybe more like Princess Strawberry from your wildest fantasies ;) But I think I pull off the look pretty well. You know, I heard from those Mario guys that eating mushrooms will give you super powers. So I picked this big fat mushroom to suck on. And you know, as soon as I stuck it in my mouth I felt myself growing, but not in the way I expected to. I had sprouted a giant swollen clitty in my bloomers! Clearly this was going to require some serious attention. So I lifted up my hoop skirt, pulled down my bloomers, and found a nice safe place for my special mushroom (in my tight ass pussy of course!). Then I proceded to rub my crossdresser clitty like there was no tomorrow. Sure enough, after a bit of rubbing I hit the jackpot :) But wait, what? The princess is being held in another castle!? Looks like you''ll just have to play again ;)
VIDEO - 2013-10-12: What do crossdressers do in the library? Cum on their uniform stockings of course! And I bet you''ll cum on my stockings too when you see me studying in the library ;) If you''ve spent any time on my site, you''ll know that a schoolgirl uniform is one of my favorite outfits to crossdress in. But you won''t find any run-of-the-mill porn actress schoolgirl uniforms on me - each uniform is unique, and I never shoot in the same outfit twice. I think this one has a bit more of a boarding school look, don''t you? Sigh, all this studying to do, and all I really want to do tonight is get a cock in my ass. Well at least I came to the library prepared, and I found this nice quiet desk in the corner to study. Shhh, the librarian isn''t looking. Want to take a peek up my skirt? I''m not wearing any panties! What, never seen a girl with a cock before? It''s ok, you can still stick it in my ass ;) Just be sure to pull out and shoot your load on my toes, ok? Here, I''ll show you. Oh, and there''s an extra special treat at the end of this crossdressing video - I cover my feet in TWO loads of sticky tgirl cum. Yup, I liked masturbating in the library so much that I made myself cum twice!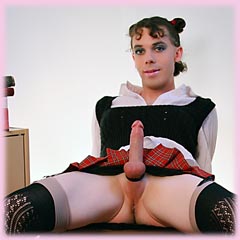 2013-10-05: Schoolgirl caught crossdressing in the library. What do you mean? I''m just sitting here studying, minding my own business. I''t not my fault my clitty is poking out from under my short uniform skirt! I can''t help that I get excited when I''m studying sex ed. I just start rubbing my long stockinged legs together under my desk and all of a sudden I have a tent in my skirt. What''s a tgirl to do? Well, I guess I could take care of this before anyone else sees it. Luckily I keep a thick curved vibrator in my backpack just for these situations ;) As I work my ass with my favorite silicone toy, I slip my sweet toes out of my platform saddle shoes to rub my socked feet against my swollen balls. Pretty soon I''m coating my soles in thick ropes of crossdresser spunk. Well, at least I can put my sexy heels back on and hide my cum stained stockings until I''m finished studying :) I''ve been on a serious schoolgirl kick recently, so if you like uniform porn you''ll want to check out all of my recent sets!
VIDEO - 2013-09-24: Ouch Ms. Jenny! What''s wrong with me keeping a little toy in my school desk anyway? Teacher Jenny is always trying to ruin my fun. She even got upset when she found out I wasn''t wearing any panties under my uniform jumper and wool tights. The way she spanks me with that ruler, you''d think she actually likes punishing schoolgirls. And can you believe what she did with my toy!? She put it up under her dress and stuck it inside her! And then she made me kneel on the classroom floor and kiss her privates. Well, actually they tasted pretty good, so I started licking her. And she got all excited telling me not to stop. I guess she liked me even better than the toy, because she told me to show her my private parts too. I''ve never seen Teacher Jenny so excited about something before as when she saw how big my schoolgirl clitty was. I guess she didn''t know that I was a crossdresser schoolgirl ;) Then she wanted me to put my clitty inside her too. I guess Teacher Jenny really likes when things are inside her privates, because she started screaming at me to push it harder and deeper. And then she got all giggly and told me what a good schoolgirl I was. I think I like when Teacher Jenny spanks me :)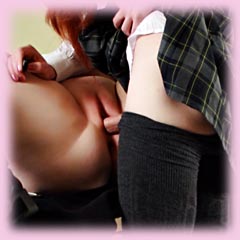 2013-09-17: This is what happens when you get caught masturbating in the school bathroom. Especially if you have a rock hard clitty poking out of your crossdresser school uniform! Teacher Jenny caught me red handed... or should I say red cocked? So she decided to teach me a little bit about the birds and the bees. Teacher Jenny started by forcing me to help her masturbate with her favorite dildo. And then she made me lick her chubby pussy until she orgasmed all over my sissy face. I think Teacher Jenny knew all along what I had stuffed in my thick wool tights - a massive crossdresser clitty! Jenny made me fuck her with my thick schoolgirl clitty until she had her fill... and then she left me with my panties down and my balls full of sissy cum standing in front of the class in my high heeled saddle shoes.
VIDEO - 2013-09-09: Sporty xdresser fucks a goal cone. This started out as an outdoor soccer video turned naughty, but unfortunately the neighbors kept coming out and interrupting me. If you notice me looking to my right a lot, that''s the neighbors making noise! So eventually I moved my soccer party indoors to give you a private uniform showing ;) Don''t worry though, I brought my soccer goal cones in with me so you won''t miss a second of my sissy ass stretching. Oh, that''s right, didn''t I mention that I''m a tranny soccer player? My clitty is almost as big as these cones. You still want to come inside with me, right? It''s ok, you can just watch me stretch my ass open for you with these cones and then leave if you want. I won''t tell anyone. But . . . if you want to stay, there''s plenty more hot crossdresser action where this came from ;)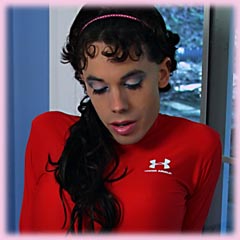 2013-08-25: Teen crossdresser shoots and scores! Well duh, I always shoot to score ;) Do you like girls in soccer uniforms? You know, those skin tight athletic shirts, short shorts, and long colorful socks pulled up over thick shin pads . . . How about when you find out those soccer players have thick hard cocks tucked in their tight little teen panties? I may look innocent with my curly ponytail and braces, but I can juggle your balls like a pro! And my ass? Well . . . come on in and take a look for yourself as I sit on this practice cone and swallow it whole. And after you blow your load on my soccer ball, be sure to check out all the other uniforms I can wear ;)