VIDEO - 2013-05-19: Watch multiple xdresser orgasms in this kinky Katie Ann exclusive video :) It''s amazing what I can milk out of my clitty when I have a nice curved dildo stuffed in my sissy pussy! I love dressing up as a naughty schoolgirl for some intense anal action. And I especially love getting my clitty spanked. It seems I''m always getting in trouble with the boys, and I just don''t understand why ;)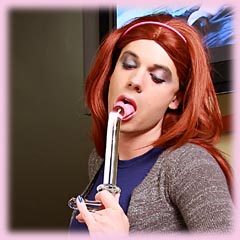 2013-05-13: Horny schoolgirl crossdresser in extreme dildo action. I really show my shiny glass dildo who''s boss in these photos. Have you ever seen a crossdresser squirt before? Enjoy all the wet messy fun as I milk my innocent schoolgirl ass, causing my clitty to drip, dribble, and squirt all over my face and my room.
VIDEO - 2013-04-28: Amazon tgirl video. Do you know what amazon crossdressers do in the woods when no one is watching? We fuck our tight little asses with our swords of course! And we don''t stop fucking until we''re completely covered in warm sticky cum :) There''s nothing like a good fuck in the sun on a warm spring day.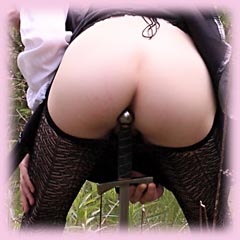 2013-04-21: Amazon warrior crossdresser strokes her sword in the woods :) I always enjoy playing a character when I dress up, and with spring in the air it seemed like a perfect opportunity to take some outdoor porn photos. Watch as I slink through the woods in my leather skirt and fur boots, looking for the perfect location to cum in the warm sunshine. Once I find a spot where no one but the camera is watching, I peel down my textured pantyhose and impale my tight amazon ass on my long sword. Mmm, fucking my ass outside where anyone could walk by and see really gets my blood pumping and my clitty swelling. You can see my veins throbbing in my cock as I start stroking it just for you. Before I know it I''m shooting a huge load of xdresser cum all over my pretty pantyhose. There''s a great photo of my cum mid squirt too :) Enjoy!
VIDEO - 2013-04-07: A very special TheCrossdresser.com member request - Katie barefoot and cumming on her own ass. This xdressing video is extra special, as it also features a gift from another of my favorite members. Yes, the beautiful red corset dress that I''m wearing was picked out by one of my members. Of course you know me, I can''t just wear a kinky corset and dribble cum over my quivering asshole and call it a video. Knowing what I would be doing at the request of a couple members got me super horny, so I indulged every fetish I could think of during the course of this video :) The corset seemed very fitting for a bondage nurse, so that''s where I started. As I slip my crossdresser clitty out of my panties I slide on a pair of steel cock rings and proceed to pump up my clitty with my penis pump until it''s massively swollen. Now I''m ready for my "treatment". Wearing latex examination gloves I coat my hard cock with a generous portion of anal eaze. Oops, guess I won''t be cumming any time soon. Just to make sure it all soaks in, I stuff my cock AND my balls in to a condom and give myself a good spanking. Now that I''m well protected, it''s time for my anal exam. After stretching and spreading my tight ass with my gloved fingers, I give myself a solid fucking with my favorite new glass dildo. With my ass fully plugged I get to work fucking my stockinged feet (don''t worry, I fuck my bare feet later in the video ;) ). After a few more strokes of my dildo, I''m ready to collect my first sample - a condom full of crossdresser pee. There''s a great shot of the condom swelling and filling with my hot golden liquid before I remove it and tie it off for later. Next it''s on to an oily foot massage and some bare foot fucking as I talk dirty to the camera. Then there is a great super close up of my clitty ready to burst as I ask you what you want me to do with my cum sample. Oh that''s right, you wanted me to spread my legs and show you my ass clenching as I cum and let my hot sperm dribble down over my tight ass hole :) Well I couldn''t just stop there, so I also finger fucked my semen covered ass hole, filling myself with my own cum. Then I sucked up all the leftover drops of sissy spunk in to a syringe and squirted it in to my mouth. How''s that for a member request?
VIDEO - 2013-03-30: Xdresser really knows how to work a dildo. Calling all foot fetish and ass lovers, I have a new favorite video for you :) This slow and sensuous crossdressing movie works up to some really kinky ass fucking in all sorts of crazy positions. All the while I slip my stockinged feet in and out of my sexy white pumps, rubbing both my dildo and my own cock with my nylon encased toes. Oh, and did I mention that I''m wearing 100% nylon stockings layered over my sheer crochet pantyhose ;) Right from the beginning of the video you''ll get to see the outline of my hard clitty through the sheer material of my pantyhose. Of course it doesn''t take long before I''m stroking my clitty for the camera and even leg fucking my thigh high stockings. There''s also plenty of toe wiggling, pantyhose sucking, and foot licking in the last few minutes of the video. Not to mention the dildo twirling and upside down ass fucking. When naughty time is up, I plunge my glass dildo as far into my ass as it will go, then pull my pantyhose back up to hold it in place. You''ll get a great upskirt view of my foot long butt plug through my sheer nylons as I slip my sexy crossdresser toes back in to my stilletto heels and head back to work (editing more videos for you of course!). Enjoy!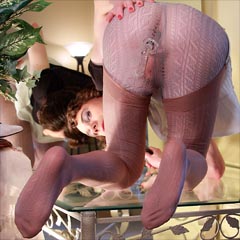 2013-03-17: Stockinged soles and ass fucking. But classy ass fucking. With a pretty glass dildo :) While I know you''re not here for the artistic value of my photography, I think these turned out particularly well. Which basically means you get to see all the sexy details as I give you seductive looks over my shoulder while lifting my skirt to show you my crossdresser ass through my crochet pantyhose. I flex my toes a bit, and my white patent heels slip off my feet, revealing that my pantyhose are layered with sheer nylon stockings. I bet you''d love to rub that big hard cock of yours all over my stocking clad soles, wouldn''t you? Well, that''s what I was thinking about at least. Feeling your warm cock on my tgirl feet is getting me all hard too - it''s getting a little cramped in my pantyhose. Here, suck on this while you fuck my feet ;) I''ll put on a little show for you if you do a good job. Watch as I slide my long glass dildo up my ass. Mmm, I love the way it''s curved at the tip. It''s making me drip, can you taste it? Well, guess it''s time to go out. I''ll just leave this dildo in my ass under my pantyhose and let you think about that all night ;)
VIDEO - 2013-03-03: Pantyhose anal fucking and orgasm denial >:) You know by know what a naughty crossdresser I am, so you shouldn''t really be surprised by this video but I''m pretty sure you''ll enjoy it! After having a long day at the office, Allie tried to cheer me up by calling me in to the bedroom to find her in pigtails and a new purple corset, complete with some very slutty crochet pantyhose and black pumps. She should really know better than to give me that "I''ll let you do whatever you want to me" look, because she knows I''ll take full advantage of it ;) I continue to act pouty, letting Allie peel down my sheer black nylons to free my bulging crossdresser cock. I can tell this is going to be a good day already as Allie licks and bobs on my cock, even letting me throat fuck her pretty good. I''ve got plenty more to do to Allie though, so I push her off my clitty before I get too close to cumming, and turn my attention to her. I peel down her tights just far enough to realize that she''s on her period - no wonder she was so intent on giving me a blowjob. No matter, I start kissing and licking her tight asshole as I rub her clit. I''m going to need her good and wet for what I have in mind! Next I roll Allie over and go to town on her clit, only pausing to make sure she''s still sucking on my cock as we 69. There are some great close-up shots of Allie''s shaved pussy as I drive her wild with my tongue, stopping right when she gets close. This was totally un-scripted, and you can tell Allie is pissed at me and desperate to cum. I continue to tease her, bringing her right to the edge while pulling her tampon out and replacing it with a huge dildo. She begs me to cum on the dildo, but I''m still not ready to let her have her way. I pull it back out and make her straddle my face. "Stretch your ass out with your fingers, show me how much you want to be fucked in the ass and I will let you cum," I instruct her. Completely desperate, my slutty little girlfriend complies with my every demand while I continue to tease her clit and deny her orgasm. Allie finger fucking her ass looks great in the video though, and you can see me rubbing my super swollen clitty as I lap at her pussy, keeping her just short of cumming. Finally, I tell Allie that I''m going to stuff my long tgirl clit up her stretched ass, and that when she''s finally stuffed completely full, dp''d by a crossdresser in her ass and a fat dildo in her pussy, then and only then can she cum. Worried what I would do if she doesn''t comply, Allie does just what I asked, finally cumming with a massive toe curling orgasm, squeezing my cock in her ass like you wouldn''t believe and milking a violent shot of crossdresser cum out of me as well. And that''s not the end either. Allie is so turned on by her ass full of hot tgirl sperm that she continues to ride her massive dildo to another orgasm, and then proceedes to squirt cum out of her ass, dribbling it all down over her sloppy wet pussy. Hope you enjoy this one as much as I did :)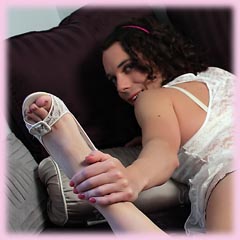 2013-02-24: Everyone seems to have a different favorite pair of my panties, so for these photos I decided to just wear them all :) Actually this was originally a request from a good friend who wanted some inspiration for his painting (you can see some of his crossdresser paintings in the members area), and he asked me to wear panties with no pantyhose. Well I wasn''t really sure which panties would look best in a painting, so I decided to model all of my favorites for him. Then last week I got a request from a member to see me wearing just lingerie, so I thought that would be a perfect match for my panty show. Of course you can''t expect a girl not to get horny slipping in and out of all of her favorite panties in front of the camera. And I kept having naughty thought about how very happy I was going to make two special people. Before long I could barely fit in my panties thanks to the huge bulge of my xdresser clitty! Clearly something needed to be done about my hardon, especially if I was going to be wearing only lingerie. So I slipped in to a nice silky pair of panties and started to touch myself through the fabric. Watch as my precum starts to soak in, making a dark wet spot in my panties. You''d think I had filled them with cum already, but I was just getting started :) Oh don''t worry, I did eventually fill my silk panties with my thick gooey tgirl jizz. Then I pulled my panties back up, pressing my hot load tight against my crotch, rubbing my clitty through my completely cum saturated panties a little before curling up for bed. Enjoy :)
VIDEO - 2013-02-16: Super extreme crossdresser sex video! Massive anal stretching, brutal cock tying, and fetish toesock pantyhose. And of course that''s just the start of my fetishes at TheCrossdresser.com :) I hope you enjoy watching this video as much as I enjoyed editing it. I know I''ve got something good when I start touching my clitty just from watching myself, hehe. The video starts innocent enough with a sheer clingly black dress and black pantyhose, but I quickly show you that I have something naughty in mind as my nipples poke through the thin fabric and I lift my dress to reveal that I''m not wearing panties today! I don''t wait long to peel down my sheer nylons and reveal that I have a special clitty under my pantyhose. And what''s a delicate girl like me to do with such a big naughty tool between her legs? Tie it up tight with a long purple rope to keep it it check, and spank it for showing under my pantyhose of course! Can''t have such a big cock getting in the way of my anal stretching, can I? Speaking of anal stretching, you''ll have a great view in this video as I finger fuck myself with a latex glove then spread my rosebud wide open for you with two fingers - plenty of room for you to fit in here too ;) Of course I''m never satisfied with just my fingers, so I move on from there to stuff a huge D-cell flashlight up my sissy ass. See, I told you I had plenty of room for your cock. Then to top it all off, I fit a speculum inside and open up my butt bigger than it''s ever been before. I show off my gaping crossdresser ass in several positions, sliding my speculum in and out until my cock is straining against its bondage rope about to explode. Don''t worry, I hold out long enough to give you quite a show including a super closeup slow motion cum shot all over my toe hose pantyhosed toes. You don''t want to miss this clitty erruption, it''s one of my favorites :)