VIDEO - 2015-03-19: Teen xdresser showing off against Tokyo skyline :) You''ll want to turn the audio up for this one! My newest crossdressing video starts off with some gaisha-style teasing behind a paper wall before I invite you over for a little private chat by the window, looking out across downtown Tokyo. I tell you all about my new outfit that I bought in the little shops of Harajuku Street. I bet none of the shopkeepers imagined what I was about to do in my sweet little loli out fit though! Lucky for you, you don''t have to imagine ;) C''mon over to the couch, we can''t let the whole city get a free show! Make yourself comfortable there. I might look all sweet and innocent today, but I''ve got some extra naughty surprises for you under my velvet dress ;) I start by stuffing the BIG end of my favorite glass toy in my ass for the first time ever. And when I say BIG . . . well, you''ll just have to take a look for yourself. It''s like one of those anime images where you can see all the way up inside thanks to a monster with a transparent cock or something. And speaking of monster cocks, have you noticed the massive bulge in my pantyhose yet? Of course all this travel has been making me excessively horny lately, and before long I''m bobbing my sweet sissy face on my own swollen futanari cock, pigtails bouncing and everything. Yeah, I love sucking cock so much that I just can''t keep my painted crossdresser lips off my own tranny dick. In fact, I enjoyed my autofellatio session so much that I sucked myself off to a massive xdresser facial. Enjoy the super closeups at the end of this video of my thick spunk absolutely covering my loli teen face :)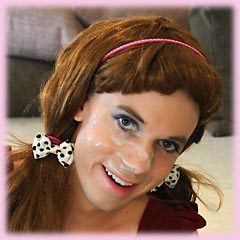 2015-02-14: I bet you''ll never guess where I''ve been this week - Tokyo! I don''t know how the Japanese feel about crossdressing, but they sure do love socks and skirts and sexy outfits, wow. I spent the day on Harajuku Street shopping the Japanese street fashion shops. And admiring the girls or course :) I set a goal of coming home with a complete outfit from Harajuku street so I could dress up as a perfectly authentic little hentai doll for you. I was sooo distracted by all the socks though. I lost count when I had bought 8 or 9 pair . . . but eventually I did also find a sweet loli dress and some sexy sweet t-strap heels to go along with all those socks :) As soon as I dropped my bags in my Tokyo hotel room I stripped down to try everything on and pick out the perfect outfit to crossdress in later. Once I was dressed I posed for a few special photos in front of the window so you can see me in xdressing in front of the Tokyo skyline. Of course in my excitement over my new velvet lolita dress and hot Japanese socks things quickly got too risque for the window ;) I moved to the couch to start stroking my sissy clitty through my pantyhose. Eventually I found a nice glass dildo to pop my loli ass cherry, and proceeded to lick my own growing clitty and give myself a little blowjob. I''ve really been into the whole auto-fellatio thing lately. Probably because I''ve been craving cum like crazy, and the surest way to get a big hot load of spunk in my mouth is to suck on my cock. You should try it sometime. Sucking on my cock that is ;) No surprise, I delivered on those desires for a nice cum facial like a porn star. I landed a particularly thick and sticky wad of crossdresser cum all over my cute hentai face. Not even an army of penis-shaped tentacles could have done a better job. And to finish it off I got some adorable Harajuku teen style selfies with my face dripping xdresser sperm :) Happy Valentines day to all my members! Seems like an appropriate set of crossdresser porn for the occasion, don''t you think?
VIDEO - 2015-02-06: Ever wonder what a European crossdresser does when she''s alone in her room? I set up the video camera so you could peak at my personal private time. I love sloppy wet pantyhose sex, and this is how I do it when no one''s watching. Except for the camera of course ;) If you like watching me tinkle, you''re in for quite a show today. This is probably the best xdresser pantyhose wetting scene ever captured on video. Enjoy close-ups of the first drops dribbling down my long stockinged legs, followed by a golden flood completely soaking my nylons. Not wet enough for you yet? How about I turn on the shower still fully clothed and fill my tight tranny ass with giant glass pleasure beads? Don''t worry, I certainly didn''t forget about the most important wet mess of all. I end this soaking wet crossdresser video with one of my famous auto-fellatio acts, resulting in an exceptionally large facial cumshot. I even shot a huge wad of cum right in my own eye! Hope you enjoy this scene, I know I did ;) And sorry again for the delay between updates - I''m still traveling, and processing video in foriegn countries is a little challenging. I''m doing my best to keep you busy with hot crossdresser porn though!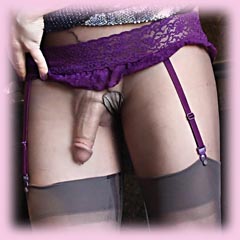 2015-01-17: Dirty teen crossdresser pees all over the floor! Of course I''m in another hotel this week, so on my last day in Eurpoe I thought I''d make a real mess in my room :) I''m decked out ready for the clubs when I realize I REALLY have to pee. There was just no way I could possibly get all of my layers of pantyhose off in timie, and before I knew it my warm golden nectar was dribbling down my long nylon clad legs and dripping off my high heeled sandals to leave a warm puddle on the floor. You''ll get to see some great action photos of the wet stain in my pantyhose spreading downward, soaking in to my thigh highs in this shoot. Eventually I gave in to the warm wetness and fished my throbbing crossdresser clitty out of my drenched pantyhose, peeing straight up in to the air and making a mess of everything in sight. I even stuffed my cock in to my shoe, crushing my clitty with my own heel as I pissed all over the stockinged soles of my cute little feet. Well, you know what happens when I get all hot and wet like that . . . before long I had found one of my dildos and was stuffing it in my tight sissy cunt. Feeling my ass filled like that made my cock instantly hard. So hard in fact that I could reach it with my naughty tongue. Lapping my sweet juices from my own cock made it grow even longer, until I had my lips wrapped all the way around its swollen head. I sucked my own cock to completion, pulling out at the last minute to end my auto-fellatio with a proper porn star facial :) I even shot some of my crossdresser spunk right in my eye! I love the taste and feel of warm cum running over my face, so I spent some time playing with my cum for the camera. Eventually I decided it was time to clean myself up a bit from my hot sloppy sex, so I turned the shower on over my piss and cum soaked clothes and face. If you like wet pantyhose, you''ll really love the end of these crossdressing photos :)
VIDEO - 2014-12-28: Euro teen xdresser cums twice in her own mouth. Mmm, the only thing better than a warm load of spunk in my mouth is two warm loads of spunk in my mouth :) Don''t worry, there''s still room for yours too, as long as you don''t mind me dribbling a little. This crossdressing video starts innocently enough with me ''working'' from my hotel room. Of course any time I find myself alone in my room I break out my pantyhose and some heels to strut around in, and today was no different. Good thing I didn''t have too much work to do, because the soft fabric of my German tights caressing my clitty quickly became too much of a distraction to handle. Especially since I had been saving up my cum for you all week. Soon I found myself jerking my cock and writhing in my chair, desperate for release. So I slipped off my shoes and started fucking my own nylon clad feet as I worked a dildo in to my ass. See me at my worst as I wantonly hump my pantyhose, oblivious to the camera in my desperation. Enjoy some hard ass fucking in this crossdressing video too, as I tried to milk the cum from my prostate. When milking wasn''t very successful (I couldn''t do it without risking completely loosing control and splooging all over my toes!), I rolled over and aimed my throbbing clitty right at my mouth. Two powerful orgasms later my mouth was overflowing with hot sticky crossdresser cum. At which point I finally remembered the camera again and put on quite a thorough show of playing with my cum, dribbling it down my chin, smearing it on my face, and absolutely soaking my shirt in my own hot juices. Enjoy! :) I''m still traveling, so sorry for the sparse updates lately. I promise I''m still here and still making hot crossdresser porn for you! Stick around to see how many countries I fuck my tight little ass in this year ;)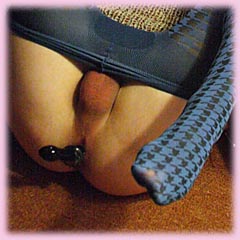 2014-12-13: Kinky German crossdresser gets a sloppy cum facial. Greetings from Germany, where I have been busy visiting Christmas markets and plastering my pretty face with cum :) I''m rather enjoying my time here - the girls wear brightly colored tights, know how to take charge of a little sissy gurl, and have an incredible kinky streak! Unfortunately I didn''t find one who was willing to take photos with me, but I did recieve strict instructions on how to perform in this shoot from my mistress. Watch as I fuck my tight ass pussy with a glass dildo, then trap it inside under my bright blue pantyhose. Meanwhile, I had a LOT of crossdresser spunk begging to escape my swollen balls, and my mistress told me that I had to catch every last drop in my mouth. I think I did a pretty good job, but after swirling my hot sticky load around in my mouth enjoying the salty sweet taste, I started feeling bad that you wouldn''t be able to see how big of a cumload I was about to swallow. So I made quite a show of letting my cum dribble out of my mouth, over my chin and down on my tranny boobs. Probably the sloppiest cum scene I have ever filmed! I hope you enjoy it :)
VIDEO - 2014-11-21: Teacher''s gone, time for some hole-some sissy schoolgurl fun! I may not have quite as many holes as a real schoolgirl, but I bet you mine are better ;) Want some private time with me while teacher is gone? I''ll show you just how naughty I can really be in this very personal crossdressing video. Lots of innocent-sounding dirty talk to the camera as I seductively toy with my marker, crossing and un-crossing my long legs, giving you little peaks up my short plaid uniform skirt. I bet you can''t make it through this video with your pants on! Especially not when I starting giving you a POV blowjob ;) Go ahead and grab my pigtails, it only gets better from here. And you thought that cute little schoolgirl smile with my mouth full of braces was innocent. Enjoy some ultra close-ups of me stretching out my virgin asshole for you before begging you to pop my sissy cherry. If you last long enough you''ll get to enjoy watching me blow my load first. Just promise me you''ll cum on my face, ok?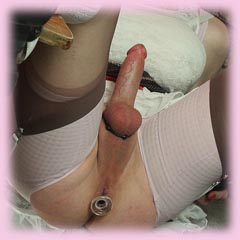 2014-11-01: Busty xdresser in schoolgirl uniform, complete with braces :D It''s been a while since I last dressed up as a schoolgirl, so I thought it would make for a perfect Halloween costume this year. I look perfectly innocent in my pigtails and braces, but my giant DDD titties and stocking tops peaking out from under my short pleated skirt give away my naughty nature ;) Why do you keep staring at me, mister? Is it my cute saddle shoes and vintage knit socks? Or did you notice the 8-inch heels on my patent oxford pumps? Heehee, it''s ok, I don''t mind you looking. Watch, I''ll show you something else - I keep it in my panties ;) By the end of these photos, I have a fat glass butt-plug filling my sissy pussy, and a huge load of crossdresser splooge on my schoolgirl desk. I bet you''re going to have a hot load on your desk by the end too ;)
VIDEO - 2014-10-11: Eastern European crossdresser video! Yup, it''s time for some video from Budapest. You know how kinky those girls from Eastern Europe are, right? Well, imagine what a Hungarian tgirl is like then! Ok, so I''m not actually Hungarian, but you know me, I''m always trying to fit in with the local (sex) culture ;) I bought some thick tights and cotton stockings to wear, and some extra lacey undergarments to pair with them. I think I fit in pretty well as long as you don''t notice my panty bulge. Of course, with all those sexy layers rubbing against my clitty as I strutted around in my cute herringbone pumps, my panty bulge became quite noticeable. It''s hard to keep 8 inches of crossdresser cock tucked out of sight! Pretty soon my bulging cock was swelling up inside my nylon pantyhose, threatening to rip right through the shear material. Did you catch a glimpse of my thick hard package as I bent over to peak out the window in my plaid miniskirt? Oops, well you might as well stick around at this point - I was just about to get comfortable in my hotel room. Here, let me tease you as I take my heels off. Do you like watching my little tgirl toes wriggle in my stockings? Or were you distracted by my engorged pantyhose snake begging to be released? This extra long video contains several extensive fetish scenes. Enjoy me relaxing in real life, getting a little tipsy from an expensive glass of scotch. Worship my feet as I slip my high heels off and peel off half of my nylon pantyhose. Watch as I jerk my engorged clitty encased in my shear stockings. Share my golden shower as I tinkle all over the hotel furniture, and lap up my own sweet juices from the table. Lick my fingers clean after I fuck my tiny little tranny asshole with them, and stare at my fat glass dildo as it stretches my ass-pussy just right. If you''ve lasted this long I will treat you to a super-sized cum load, leaving a thick hot mess all over my pantyhose and the hotel table. Don''t worry though, I''ll help you clean it up ;)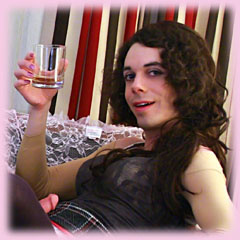 2014-09-26: I''m traveling again, so updates may be a little spotty. I''ll do my best to keep you stocked with the best crossdresser sex on the net though :) This week finds me in Budapest, enjoying a fine glass of scotch along with my glass dildo. What, you don''t always have a dildo with your scotch? You should really try it some time ;) These crossdressing photos are also a foot fetish dream come true with layered pantyhose, stockings, and socks (yes all three!), some beautiful shots of me peeling off various layers of nylon from my cute little crossdresser feet, stockings wrapped around my engorged clitty, and finally a copious and messy nylon cumshot. You''ll also find some impressive photos of me peeing in to my scotch glass :) Hope you enjoy watching me crossdress in Europe this week!