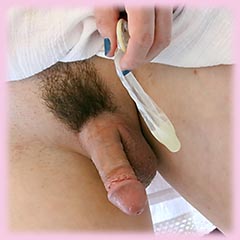 2017-06-08: Teen crossdresser learns about safe sex... sort of :) So, my parents aren''t home and I was thinking... maybe today would be a good day to, you know, do it. I wore my thigh high toe socks for you today, I know how they drive you crazy ;) Oh, and I found these condoms in the girls locker room, I guess we should probably use them. C''mon, pull your pants down and get ready! Wow, that''s a nice looking cock you have. Here, I want to try something I read in a magazine. Close your eyes. Glmph. Gulp. Mmm. It tastes good. Do you like when I suck on it? Ok, my turn! Don''t be shy, pull down my panties! My clitty? Oh, it''s right here, I always tuck it in my butt during the day so it doesn''t bulge out of my panties. Big? Well, I know it''s a little bigger than most girls, but... oh, I think you''re making it grow! Oh my god, I think it''s even bigger than your cock, hehe! No, no, it''s ok. I guess you''ve never been with a crossdresser before, huh? You''re still going to fuck me, right? But maybe we should both wear these condoms ;) Ok, now put your cock in my ass, go on. Oh. Oh shit that feels good. Oh... Watch young crossdresser Katie-Ann blow her load while being fucked in the ass without even touching herself. Ok, so it was a bit of an accident, but I was desperate to cum, and the combination of my prostate being probed and that tight condom squeezing the hell out of my tranny balls just sent me over the edge! Enjoy the sexy crossdressing photos :)
VIDEO - 2017-05-17: Your crossdressing mistress just raided your wife''s panty drawer! What''re you going to do about it? Yup, that''s right. I stole these wool tights from your wife, and took her knee-high boots too. I even made a little modification to her patterned tights to accomodate my panty bulge ;) You love me enough to let me keep them, don''t you? I mean, I look better in these boots and tights than your wife does anyway. You can have her panties back though, now that I''ve dribbled pre-cum all over them. Think about my juices rubbing against her pussy next time she wears them, ok? What, are you going to punish me for stealing your wife''s clothes and crossdressing in them? I just... ow, hey! That boot''s really heavy, ok? And my tranny balls... oof. Oh god, I''m getting all hard from you kicking my balls with your wife''s boots! You know how I like CBT. It hurts, but I can''t help getting turned on. And now I have to kick my own balls with my boot-socked feet? Yes sir... Harder? I... oh shit, I''m going to cum from kicking my nuts with these socks on... no no no, don''t stop! And that''s just the begining of the cock and ball tortuture in this extreme crossdressing video! Next up is a bit of ass fucking with a double-sided dildo, while I use the other end to slap my balls. Then comes an extreme 1/4 inch urethral sound to dialate and plug up my poor tranny cock. Finally there is a sensual tease and denial session, bringing me right to the edge of climax in super closeup... and then an incredible ruined orgasm a good 7 seconds after I stop touching myself ;) Ok, to be fair this one is only semi-ruined - I had fully intended to have a retrograde ruined orgasm with the urethral sound firmly plugging my engorged clitty, but the force of my semen building up shot that sound out of my cock like a rocket! And the sensation of the heavy steel sound surging down my urethra was enough to put me over the edge and orgasm... sort of. It was still intensely un-fulfilling, don''t worry (you can tell by the way I stay hard and keep trying to rub my cock afterwards!). But I did create a pretty impressive gyser of cum too. I suppose that''s the best of both worlds ;) In fact, I was still soooo horny after I finished this crossdressing video that I needed to cum again. And the idea of kicking myself to orgasm earlier was such a turn on that I decided I''d go all the way just by kicking my balls with my stockinged heel. So while I was downloading the files for this shoot, I set up my video camera again and recorded a candid film of me totally crushing my nuts to orgasm. I think it''s pretty impressive, so I included it in this week''s update :) Enjoy the bonus footage!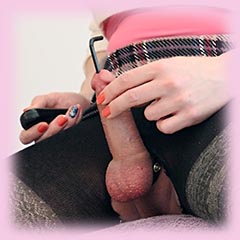 2017-05-01: Extreme teen crossdresser in ballbusting photos! Your firey little redhead mistress has gone a step too far this time, stealing your wife''s favorite boots and strutting around the house wearing them. What''re you going to do, hmm? You know you can''t deny me what I want. Watch, I''m even going to rub my sissy cock all over your wife''s boots, fucking the buckles and dribbling my pre-cum all over the expensive leather. Ooh, did I mention that these wool tights I''m wearing that I cut the crotch out of came from your wife''s panty drawer as well? I bet she''d love to know that you''re drooling all over my hard cock because your tranny girl looks better in your wife''s clothes than she does! Oh, you''re going to punish me now? You want me to kick myself in the balls with your wife''s thick boots? You know that just gets my slitty harder and splatters pre-cum everywhere. Maybe you should find something really big to stuff up my ass. No, no, the glass dildo isn''t big enough today. I need to really be punished. Get the giant double-ended cock dildo. Yeah, now spank me with that giant dildo, right in my sissy balls! Tell me what I naughty gurl I''ve been, snooping around in your wife''s panty drawer! And once my balls are purple from the beating, then you should ruin my orgasm. That thick steel alen wrench should do the trick. No, not that one. The quarter-inch size. Oh fuck that fills up my clitty. I have a really big load today, where''s it all going to go?? OH god, that steel shaft in my pee-hole is going to make me... cum! I hope you last until the last photos to see me launch 4 inches of solid steel out of my crossdresser clitty like a rocket as I spoil your ruined orgasm plans ;)
VIDEO - 2017-04-09: Cheeky crossdresser interviews to be a porn star! Watch as I test Cheeky''s limits in this real-life audition for a spot on TheCrossdresser.com. Ok, well actually I already knew that I was going to hire her, but I couldn''t resist the chance to shoot another sexy video with my new crossdressing friend ;) Cheeky''s interview starts out with some innocent requests, like picking up my morning coffee and rubbing my stockinged feet after a long day of walking around in my white patent leather pumps. But pretty soon Cheeky lives up to her name and bravely reaches a hand under the hem of my business skirt to brush my panties! My apprentice crossdresser quickly found out just how big of a surprise I keep in tucked in my panties. No sense in hiding it now, I pulled my lace panties asside to reveal my growing clitty. After that, Cheeky found it a little difficult to focus on the interview ;) I didn''t mind though. I had fun teasing her by rubbing my nylon clad feet in her lap until she literally tore her shirt off to get closer to me. I managed to hold her off for a little while, alternating between sucking Cheeky''s girly little clitty with my soft lips and crushing it under my silky nylons... but before long I was having too much fun sucking cock. You know how I get with a cock in my mouth, at some point there is nothing you can possibly do to prevent me from sucking out a big load of warm cum whether you want to give it up or not ;) I did at least stop to adjust the cameras though! I let Cheeky spurt a nice sized load of crossdresser cum across my lips and nose. I have to say, she did a pretty impressive job of coating my face with warm spunk, considering it was her first time to give a facial as a crossdressing porn star. Well, that was about as much as a gurl can handle - I had gotten all worked up giving blowjobs, and now I had warm sticky cum running all over my face, and I had been saving up my own cum for this scene too. I was about to burst as I wriggled in to position to deposit my own load on my face as well. Cheeky was kind enough to hold my ass up in the air, and within minutes I was spurting buckets of thick spunk in my mouth, my hair, and even right in my own eye (oops!). You would have thought I came twice the way I kept squirting ;) Between Cheeky and my loads, I have never had that much cum on my face, and I loved every minute of it. See what happens when you let me suck cock? ;)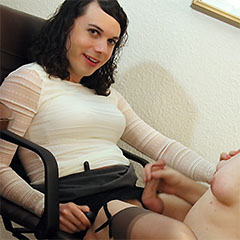 2017-03-30: Hot crossdresser interviews a new personal assistant. Well after our first steamy meeting, Cheeky Valentine was practically begging me for a job at TheCrossdresser.com. Can you blame her? ;) And given that none of my other assistants seem capable of keeping up with my wild sex drive on their own, I figured I''d give Cheeky a chance to interview. As you can imagine, interviews for a crossdressing porn site are quite an event for all involved. Cheeky showed up in black stockings and a button-down blouse that said she was all business... but she forgot to wear a bra, and her ample breasts and nipples were poking right through the thin fabric. Of course I didn''t say a word about her hard nipples and got right down to business. Cheeky excelled at tasks like slipping off my white patent pumps and giving my stockinged soles a lovely foot rub, and she showed a lot of enthusiasm towards recieving a footjob from me afterwards. I decided to really push her limits and was rewarded by her literally ripping her shirt off (buttons were flying everywhere!) to show me her crossdresser titties. I''m not sure what happened to Cheeky''s skirt, but somehow her little uncut clitty was in my mouth moments later. It was really fun to feel Cheeky''s cock in my mouth - she gets soooo hard when she''s excited! But when she asked if I was ready for her to cum I had to cut her off. Cumming 5 minutes in to an interview just won''t do at all! I proceeded to test out Cheeky''s handjob skills and found them quite satisfactory. Wondering how long this crossdresser could last, I alternated between pantyhose jobs and blowjobs. I was probably absolutely torturing that clitty of hers, but she took it pretty well, always asking permission when she was close. Eventually I told her if she really wanted to work for me she would have to cum all over my pretty young face, and if she could coat every inch of it in warm spunk I would hire her. Well sure enough, Cheeky had a really big load ready for me by that point and did a pretty amazing job of icing my face - probably the best facial I''ve ever recieved to be honest. Wanting to help her out a bit in her final rating, I decided I''d add my own cum to her spunk too. Cheeky was a good sport and rubbed my tight ass while I jerked myself to a very fulfilling orgasm. By the end of the evening, I was a very happy crossdresser, and I had more sticky cum on my face than I had ever experienced before! So yeah, Cheeky got the job ;) Find more of Katie and Cheeky''s adventures, only at TheCrossdresser.com !
VIDEO - 2017-03-12: Apply to be xdresser Katie-Ann''s new boyfriend in this highly interactive video ;) All applications are welcome - I''m an equal opportunity slut! Being my boyfriend isn''t all about sex though, there are lots of foreplay duties you will have to perform as well. You''re going to have to relax though, or you''ll never make it through the whole interview without cumming! Here, let me make you some tea to calm your nerves (and keep you hard). Warm golden tea freshly filtered through my lace panties that is. Now lap my piss out of my teacup like a good boy, and we can get started with your interview. Now one of your important jobs as my boyfriend will be to remove my high heels and rub my sexy feet at the end of a long day of looking beautiful for you. Oh, and of course I will be needing a new pair of pantyhose for tomorrow because somebody will certainly be cumming on this pair. They should always be special pantyhose, like these toehose imported from Japan. I can''t be bothered to wear ordinary pantyhose you know. Well, you''re doing pretty well with my feet so far, so lets see how you do rubbing my other parts ;) Let me just get out of these panties here... oh, what''s the matter? You mean you didn''t realize I had a cock in my panties? Oh well that''s very flattering, but I''m afraid you''re not going to get out of your interview at this point. You''ll just have to be a fast learner I guess. I''m sure you have what it takes to be a crossdresser''s boyfriend, you were doing so well before you saw my panty bulge! Now don''t be shy, give it a little rub. That''s it, you''re a natural clitty stroker! Now as I was saying, sometimes I''m a naughty gurl and will need to be punished. Like right now. Your job is to keep me from cumming before we get to the end of your interview. Oooh, spanking my balls was a very nice idea, but I kind of enjoyed it... you know, sometimes I can even cum from having my balls spanked... perhaps you should try tying up my clitty instead. Well that''s not bad, I ... ohhh, damn it, I really can''t cum. Fine, you pass. Now untie me so we can continue. What? You want to leave me like this? No no, this isn''t fair - please, I really need to cum. Here, you can even try out my tight little sissy cunt with this toy. I''ll suck your cock, you can even cum on my face... oh thank god, now just help me out a little with your mouth, I''m really close... Fuck, you ruined my orgasm!? I can''t have a real one until I hire you as my new boyfriend!? Oh my god, you''re too perfect - you can start immediately. I''m glad you came around to the idea of dating a tranny. Now get to work, there''s a lot more cum in these balls, and I''m dying to rub a big warm load between my individually nylon encased toes. Once my toes are lubed up with spunk, you can take me out to dinner ;)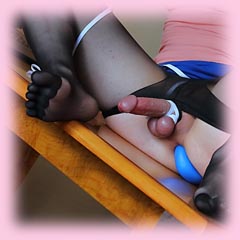 2017-03-06: This little crossdresser is looking for a new boyfriend! Apply inside - do you have what it takes? I had to dump my last boyfriend because he would only fuck me twice a day. Can you believe it? I''m not asking that much. I guess I will just have to start interviewing my boyfriends to make sure they can keep up with a hot young crossdresser like me. Want to apply? First you''ll have to make me cum at least three times a day. You may have vacation when I travel, but expect to come back to work with a whole lot of cum to drain from my balls. Second, you have to appreciate my pantyhose. I have all types you know, and I expect a boyfriend to know the difference between toehose and tights. Speaking of which, I will expect pantyhose footrubs. You will be repaid in kind, with pantyhose footjobs ;) Sockrubs and sockjobs are also fair game. Sometimes I wet my panties, and you''ll just have to lap it up like a good boy. I''ll let you sample it to make sure you like it - let me just grab a teacup here... You must not beg to fuck my ass. I''m a virgin and intend to keep it that way for now... but I reserve the right to tease you mercilessly, make you fuck my girlfriends'' asses while I watch, and stuff all manner of toys up my ass. But that stiff cock of yours will just have to wait to experience my tight hot virgin sissy cunt sliding down the shaft... if you treat me well you''ll get to be the first to pop my tranny cherry ;) Sometimes I''ll make you abuse my naughty clitty. Like tying it up tight with elastic cord until it turns bright purple and spanking it. The harder you punish me, the more desperate I will be to fill my mouth with your cock. Don''t get distracted. Oh, and on the topic of blowjobs, I expect to give 5 or 6 per day. If you can''t handle that many, you''ll need to find other studs to stand in. You don''t want to see me without my full daily dose of cum in my belly ;) Think you can do that for me? If so, go ahead and leave me a sperm sample here on the table, and I''ll get back to you. Now shoo, I''ve got lots of other interviews to get through today! It''s tough work being a horny young crossdresser, but somebody''s got to do it!
VIDEO - 2017-02-18: My most ambitious crossdressing video yet, a full hour of super kinky crossdresser fun! Three outfit changes, two camera angles, and one big tranny cock fill this intensely kinky story-based film. You know I love to role-play, but this one takes it to a whole new level ;) Fair warning, this video features age-play and diapering, plus a whole lot of panty-wetting. And good news, I''ve now switched to 1080p video! That''s a big upgrade in resolution, so no matter how big your... er, monitor... gets, you''ll be able to see me crisp and clear. In fact, you should be able to watch my clitty in real-life-size in some of the super close-ups! So come with me on a journey to the deepest jungles of kink-land, and watch teen Katie-Ann hypnotized in to a helpless thumb-sucking sissy baby. First stop, a panty-wetting pigtailed schoolgirl. After a degrading scolding by Miss Allie for showing off her penis to the boys in class, Katie finds that she''s had a big accident in her school uniform... and she''s still leaking! Katie-Ann spends almost 10 minutes peeing her panties, dripping all over the floor and her chair, down her long pantyhose-clad legs and in to her cute ankle socks and saddle shoes. There''s lots of splashing and sloshing and dribbling, including close ups of Katie plopping in to a puddle of her piddle and stomping in the warm piss covering the floor. Halfway through this video Katie is one very very wet and messy crossdresser. Time for clean-up! Katie-Ann is given a soapy bathtub and dunked in fully clothed! Gradually Miss Allie strips Katie down and washes her off, resulting in a rare buck naked scene, hehe. Once Katie is clean and dry once again (and has realized how much she enjoys playing in her own warm piss!) she''s ready for the final stage of crossdresser age-regression. Miss Allie lays out a big thick cloth diaper for Katie. After a coat of baby oil and a very thorough clitty rubbing, Katie-Ann is ready to comply with anything Miss Allie says. On goes a thick coat of baby powder, and then a big fat butt-plug is worked in to Katie''s tiny virgin ass. Katie wriggles in to a pair of thick white wool tights with a special clitty hole before her diaper is taped up, trapping her raging hardon and swollen balls inside. Then crossdresser Katie gets dressed in a frilly white romper and bright pink booties and put down for a nap under her Hello Kitty blanket. Once she''s well adjusted to her new role as Baby Katie, Miss Allie takes pitty on Katie''s one remaining adult feature - that stubborn swollen clitty that just won''t stay inside her diaper! Katie-Ann is fed her own cock like it''s a bottle, and sure enough she milks out a nice big orgasm to fill her belly. That''s better. Now Katie can be taped back in her diaper, ready to be an ordinary baby girl for the rest of her life.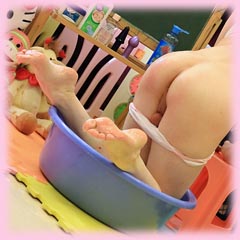 2017-02-05: Big girls don''t wet their panties! Hot crossdresser Katie-Ann is reminded that she''s still just a baby at heart as she''s treated to some intense age-regression therapy. Whatch as Katie regresses from a respectable teen crossdresser, to a young schoolgirl who can''t keep her panties dry, all the way to a sissy baby in diapers. Too intense for you? (I know, I can be pretty kinky sometimes!) Don''t worry, there''s something for everyone in these fetish-packed photos - you''ll want to check them out even if you''re not in to diapers or age play. I start off innocent enough in my tiny pink shorts and comfy slouch socks getting ready for a nap on the couch. Well, maybe you can clearly see my massive panty bulge right through my tight shorts, and maybe I decide to touch myself a little as I drift off to sleep... but that still counts as innocent, right? ;) So one minute I''m napping on the couch, and the next thing I know I wake up to my teacher scolding me for falling asleep in class. I could have sworn I was older than a schoolgirl, but there I am in my plaid jumper and pigtails sitting at my school desk. Mommy must have wanted me to look really pretty today, because she dressed me in my patent leather saddle shoes and new lace trimmed ankle socks, and she even put on my fanciest knit tights. I know, it must be photo day at crossdresser school today :) Mmm, and my pretty tights are so warm against my crossed legs. I love how the warm feeling spreads across my little butt and drips down my long legs... wait, that''s not supposed to happen, is it? Oh no, I must have peed my panties when I fell asleep at my desk! And it''s still coming out, right in the middle of class! Of course teacher notices right away that her naughty crossdresser student is sitting in a puddle of warm piss. Katie-Ann, your panties are completely soaked! Good thing we have this little bathtub for incontinent students to wash their soiled clothes in. Teacher makes me get in the bathtub fully dressed - as if my clothes weren''t wet enough already! It''s kind of fun splashing in the soapy water in front of the class though. Teacher peels off all my dirty clothes and gives me a good scrubbing in the baby bathtub. After bathtime it''s time to get a fresh diaper on. Wait... I thought I was in school? But no, Mommy is gently rubbing baby oil all over my clean sissy clitty, getting me ready to be diapered. This is much better than being a schoolgirl. Next I get a good coat of baby powder caked over my crotch before Mommy tapes my diaper in place. I''m so glad I don''t have to worry about wetting my panties or any of that other big girl stuff anymore. My thick fluffy diaper will keep me safe and dry, and my white cableknit tights that Mommy is pulling on will keep me warm during my nap. And look, cute little pink booties too! On goes a clean white dress, and Baby Katie is sweet and innocent once again. Now just one last thing to take care of, says Mommy as she pats my diapered crotch. Baby needs some milk, and we need to take care of that unsightly diaper bulge - good thing we can take care of both at the same time. Mommy starts patting my diaper harder, and I can feel my clitty grow until it pokes right out of the top of my diaper! Now take your bottle like a good baby crossdresser. The tip of my clitty swells and turns a pretty purple color under Mommy''s insistent milking, and as I open my mouth to take it in the first spurt of warm crossdresser milk hits the back of my throat. I drink my fill of cum, and everything is right in the world.
VIDEO - 2017-02-01: Xdresser Katie''s boyfriend teaches her to drink cum by pairing it with wine, and now she''s hooked! Of course I''m not old enough to be drinking real wine, so this is just grape juice, right? ;) It''s just really expensive grape juice that daddy keeps locked up down here in the basement. But I found the key to daddy''s wine cellar, so now when I''m really horny I sneak down here so I can have wine with my cum. I think this nice shiraz will work well, don''t you? A deep ruby red color to contrast with my creamy white spunk, and a bit of sweetness for my girly side. How about you pour yourself a glass of wine too, and settle in for some intimate time with your favorite crossdresser ;) This is a really interactive video, so I hope you''re ready for it! I get a little talkative as I start drinking my wine, hehe. Our little secret, ok? If you promise not to tell on me for drinking daddy''s wine, I''ll let you cum in my wine glass too. That will make three loads of cum to swirl into my wine and gulp down! First thing''s first though, I need you to help me get in the mood. Touch my pantyhose, ok? I want to feel your warm fingers on my inner thigh through my layered nylons... do you like the way my patterned tights show through my white pantyhose? Can you tell which panties I''m wearing as you peek up my skirt? No? Here, let me show you - I picked out lace panties because I wanted this to be special. Wait, I''m nervous about... well I''m not like other girls, maybe you won''t like how I look without my panties... oh! Um, well what do you think? It''s not too big, is it? It''s ok if this is your first time with a tranny, here have some more wine. Ok, now let me dip my clitty in your glass, and you can lick the wine off my cock. That''s not so bad, right? Hmm, seems the bottle is empty now, I wonder what we should do with it... Maybe it comes as no surprise that I stuff a wine bottle up my sissy pussy in this video, but if you enjoy watching me fuck my ass this video is a really good one! Not only do I get a LOT of that bottle inside me, but there are some really nice shots of me riding up and down on it too. Oh yeah, and then I milk the cutest surprise spurt of cum from my clitty, completely hands free! My crossdresser balls were so full today that just milking my prostate with that wine bottle coaxed a nice spurt of cum out, and I don''t mean a little dribble either. Luckily I caught it in my wine glass (and had a great camera angle for it too). Not to worry though, I still had a full load left for later ;) Finally, make sure you last to the end of this video - you won''t want to miss me slurping up my cummy wine cocktail. I was really torn between playing with my yummy spunk and swallowing it all for you, so I did a bit of both. I make quite a mess of red wine and cum dribbling down my chin, but I catch most of it in my wine glass. Eventually I drain the last drops from my glass and swallow the whole load. Mmmm, wine and cum, my favorite crossdressing treat!