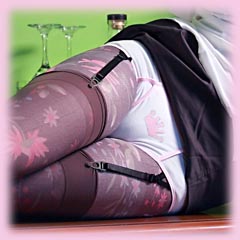 2014-03-09: He''ll be with you in just a moment. In the meantime, help yourself to a drink or snack . . . or a mouthfull of crossdresser cock :) I get to meet all sorts of people working as a receptionist, but my favorites are the ones who pick the crossdresser cock! I''ll give you a free show as long as you don''t tell my boss. I''ve seen you looking up my skirt whenever I spread my legs a little. It''s ok, I don''t mind. Go ahead and stare, I''ll give you a better view. Aww, are my cute princess panties in the way? Here I''ll just take those off for you. Is that better? Do you like looking at my tight tgirl ass through my patterned pantyhose? Or perhaps you''d prefer to look at my sexy feet encased in layered pantyhose with nylong stockings. Let me slip off my heels so you can get a nice close look at my feminine soles and cute little toes. Mmmm, it makes me so hot knowing that you''re watching me, stroking your cock through your dress pants. I''ll show you mine if you show me yours ;) You know jerking my crossdresser cock through my pantyhose is never enough for me though. Pretty soon I have my favorite blue dildo stuffed in my tight teen ass. Oh, that''s much better. Now show me how much you''re enjoying my little xdresser show, and I''ll give you a special treat. That''s it, I love when you jerk it hard. Wait, not yet! Let me cum first ;) Then I''ll let you cum on my pretty CD face while I lick up my own tgirl cum puddle. OK? I even have this special dish to catch all the cum in so I don''t miss a drop. Join me in my members area when you''re ready to watch me swallow your cum!
VIDEO - 2014-02-20: Tgirl cumslut training video! Mature tgirl Bobbi teaches me all her tricks for getting the most cum out of a cock, then feeds me both her cum and my own. Now I can be a real crossdresser slut :) It''s tough being a sexy young crossdresser with all these guys whipping out their cocks for me. I mean, I know they can''t help it when they see me strut by in my red lace stockings and platform heels. And seeing all those hard cock that my members and friends send me makes me all hot and bothered under my mini skirt. Now I don''t have to worry any more, because I know how to take care of any cock I see :) Xdresser Bobbi paints my nails, shows me how to lick cocks, massage balls, and even give a sexy rimjob! I love sucking cock, watch how hard my clitty gets when I go to town trying out my new skills on Bobbi. I just love the way her warm cock feels swelling and bulging in my mouth, and I can''t stop myself until she''s filling me up with her hot sticky crossdresser cum :) Bobbi makes me one happy xdresser as we finish up my training session with two big loads of cum in my mouth.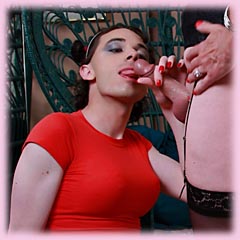 2014-02-08: Learning to be a tgirl cumslut sure is fun! Mommy decided it was finally time to show me what big girl crossdressers do with a very personal training session. She dressed me up in her naughty red stockings, and her highest platform heels. Then she taught me how to suck on a big fat cock, and let me practice on her own lolipop :) Next Mommy bent me over and stuck her tongue in my tiny little ass while she reached around to stroke my swollen clitty. Wow, Mommy, that feels so good! I''m glad you taught me that trick. I got so excited from all of this that I knelt down in front of Mommy and sucked and stroked her off until she shot her sticky crossdresser cum all over my face. Then she took her turn sucking on my clitty and stroking my stockinged thighs until I couldn''t stand it any more. I spurted a huge load right in Mommy''s mouth! Oops, it was so big she couldn''t hold it all, and it dribbled down her corset and all over her own clitty. Oh well, I''m well trained and know how to lap up my own cum, so I slurped up all the dribbles and shared an extra cummy kiss with Mommy.
VIDEO - 2014-02-02: Ultimate dickgirls to the rescue! Katie-Ann debuts in her first ever dickgirl comic, complete with technicolor and graphic captions :) It may be a low budget film, but how often do you get to see a full fledged dickgirl beating down alien cock monsters with her tranny powers? Only at TheCrossdresser.com of course! It may be a bit different theme than what you''re used to, but don''t worry. I include plenty of pantyhose and sock action, hardcore tranny ass fucking, massive anal dialations, and of course a thick sticky crossdresser cumshot. Which I slurp up off of my limp and defeated cock monster at the end of this sexy video ;) Are you ready for something more than your average crossdresser? Then get ready to experience the tripple-D cup and horse-hung Katie in her cock slinging space adventures!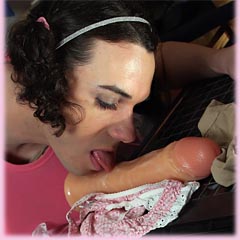 2014-01-12: Busty and hung, Ultimate Dickgirl conquers a giant cock monster :) Can you believe this huge cock monster tried to attack me right in my crossdresser command center? One minute I was minding my own business updating TheCrossdresser.com with some brand new sexy crossdressing photos, and the next I had this oversized lifelike cock stuffed in my tight ass! Lucky for me, I''m no ordinary girl. I used my Ultimate Dickgirl superpowers to swallow that nasty dildo whole and give him a taste of his own medicine. I bet he''s never gotten himself burried that deep in a girl''s ass before. Before I knew it, that cock monster was done for, spurting his sticky spunk deep in my ass pussy. It didn''t take long for me to milk him completely dry. Spent and defeated, the cock monster flopped out of my ass thinking he was safe. But oh no, I wasn''t done with him just yet ;) I straddled his still swollen fleshy shaft and whacked him with my clitty until he begged me to stop. Instead of letting him go, I shot a huge load of my own cum all over his massive cock. How does that feel, cock monster? Now go crawl back home and tell those other cock monsters that they''re in for a surprise if they try and mess with an Ultimate Dickgirl again.
VIDEO - 2014-01-05: Layered pantyhose and dirty cum filled martinis. That''s how I like to relax after a long day of making crossdresser porn ;) Just watch this candid video. I really wasn''t planning to film my personal time, but I thought my members might enjoy seeing me relaxing and crossdressing on my own terms. Making porn gets me super horny. It doesn''t seem to matter how hard I fuck during a real shoot, I always come home with my balls full and throbbing. So of course I dress up again in one of my favorite outfits at home and find someplace to release all that pent up xdresser spunk. Today I thought my martini glass would make a nice cum receptacle - that way I could enjoy sipping on my own cummy cocktail all evening. I hope you''ll forgive me for going off camera to look at some porn mid shoot, and later to finish my martini by myself. I promise I edited the video to make sure you would see all the best parts ;) If you''ve ever wondered how a crossdresser spends her private time at home though, you won''t want to miss this video. Oh, and I talk a lot during this video too. I''ve been trying to do more of that lately since my fans seem to like to hear my voice. And a nice candid video like this seemed the perfect place to practice ;)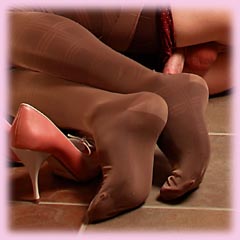 2013-12-31: Celebrate the New Year crossdresser style with a cum martini! Yup, I sure do love my cum cocktails ;) After being out of town most of December (sorry about that guys!), I''m back and hornier than ever just in time for 2014. Check out my new teen crossdressing photos featuring sheer thigh highs layered over pantyhose with a cute plaid pattern and my "Sexy Little Things" panties underneath. And of course I show you all of my sexy little things, though by the time I''m finished they''re more like sexy giant things ;) Lots of cute shots of my pantyhosed soles in these photos too, I loved the way the layers of nylon looked as I curled my toes. I also break out my penis pump again ensuring that I have the biggest hardest clitty you''ve ever seen. Plus a new toy too - a giant curved dildo on a plug-in vibrator to penetrate my little ass pussy. This thing vibrates like crazy (just wait for the video!), and pretty soon I was filling my martini glass with loads of fresh cum. I even got some action shots of my thick ropes of xdresser spunk squirting into the glass. And of course I enjoy a few sips of my cummy cocktail for the camera too :)
VIDEO - 2013-12-02: Sexy cummy pantyhose, my favorite kind! :) This crossdressing video is for feet and pantyhose lovers only. Don''t say I didn''t warn you ;) These shear Wolford pantyhose are just amazing - it looks like I''m not wearing anything at all on my legs until you get a peak of that sexy cotton gussett under my skirt. Doesn''t it make you just want to reach out and touch my nylon clad legs? Don''t wander too far up my thigh though, or you''ll find another surprise! My xdresser clitty is straining against my tight pantyhose, bulging halfway down my leg. I was really horny when I shot this video for you, because I was making it for a special member. Well, and because I was all excited from stealing Allie''s pantyhose from her lingerie drawer ;) So if you like crossdressers with huge cocks, you''ve come to the right place. Did I mention how horny I was for this video? Halfway through I start desperately fucking my stockinged foot and sandal, and I quite nearly shot my load early, right on my own sole. I barely held it in for a special pantyhose fucking. I took a pair of my black fully fashioned thigh highs and slipped them over my arm to rub my clitty with. And then I pulled my thigh highs over my cock and jerked off in to them. Don''t you love the way my white spunk shows up so well on my black nylons? :)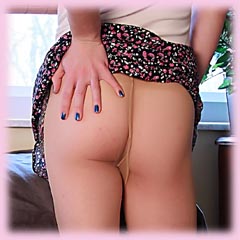 2013-11-22: Teen crossdresser in pigtails and Wolfords. There''s nothing quite like a shear pair of Wolford pantyhose. You just have to try them to understand - such perfectly smooth nylon, it''s like silk caressing your legs and toes . . . not to mention your ass, inner thighs, and . . . well, you know ;) My pantyhose are so shear, you can barely tell I''m wearing them until I peel down my panties to show you my clitty straining against the lycra material. And for those of you who love layers, I''m also wearing European crochet socks over my pantyhose and high heel sandals so my cute little socked toes can peak out :) Speaking of layers, watch as I pull a long black nylon thigh high up over my tgirl cock. I just can''t get over how all this nylon feels rubbing everywhere on my teen body. I can''t help it, I have to touch myself a little. As my fingers caress my nylon excased cock I surge to full attention. Oh no, this hardon is never going to fit back in my pantyhose! Well, I guess there''s only one way to fix an overly horny xdresser - you just have to give in and milk those massive balls dry. My thigh highs are already completely soaked with pre-cum, so I might as well finish off and shoot the rest of my load in them too. I was surprised by how well they held in my spunk. You''ll be able to see in the video each surge of cum straining to break free of the nylon. It certainly wasn''t for lack of trying that my cumshot didn''t show up in the photos! Don''t worry, I turn my sock inside out to show you the mess I''ve made. That''s one huge puddle of crossdresser jizz :)
VIDEO - 2013-11-10: Mushrooms everywhere! What''s a princess to do? I tried licking them, and they got all wet and ran away for a bit . . . but they just kept coming back, trying to get up my skirt! Honestly, what do mushrooms want up my skirt anyway? Oooh! That''s my butt! Oh, I get it, these mushrooms are just like the ones on my boyfriends. They just need to squeeze inside my tight sissy pussy a few times and squirt their sticky mushroom seed because they''re so swollen. I understand, because I have a giant mushroom under my panties too :) I guess you can play with my tgirl clitty while I''m taking care of these thick mushrooms. Mmm, it feels good having my cock stroked while a giant mushroom head pops in and out of my crossdresser ass. Yeah, just a few more strokes, and . . . ohh . . . I''m cumming! All over my cupcake panties. Well, at least my clitty squirts tasty icing :) Watch as I suck all of my sticky cum out of my panties for the camera.