VIDEO - 2015-11-13: Desperate crossdresser wets her pantyhose on her first day on the job. Katie-Ann is still learning the ropes, and can''t find the bathroom in time! So instead she hides in the corner of a massage room and squeezes her long legs together as her warm pee starts to dribble down her pantyhose. How embarassing! As if the wet streaks down my tights weren''t bad enough, my brand new suede heels are soaked and showing tell-tale dark wet lines. And the puddle on the floor! I desperately try to mop up my piss with my socks, but in the end it''s hopeless - I''ve made too big of a mess to hide. Finally I give up and plop down in my warm wet puddle, completely soaking my panties. Of course the warm wetness in my panties just causes my panty bulge to grow. Bigger and bigger until my crossdresser clitty tears right through my patterned tights, all swollen and throbbing. Well, no sense in letting a hard cock go to waste, so I get to work stroking and loving it, even fucking my piss wet socks with my tranny cock. You know me though, I can''t let my clitty have all the fun - my sissy pussy needs some attention too! After searching around the massage room I find a nice bottle of wine for our clients, and figure it will stretch my ass just right ;) I fuck that wine bottle like I''m riding a real cock cowgirl style, swallowing the entire bottle neck deep in my ass pussy. Oh yes, and what would a spa visit be without a facial? I end this video in style with a truely massive crossdresser self-facial cumshot. It fills my entire mouth before I swirl it around and spit it out at the camera. My cum is so thick though that I only manage to splatter it all over my own face. Laughing, I show you what a huge mess I''ve made today and offer you the last drops of my cum.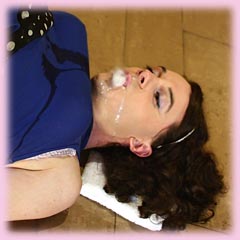 2015-10-05: Welcome to the Spermy Spa! We specialize in erotic massage and exotic treatments by our skilled staff of beautiful tgirls ;) Katie-Ann here has been trained to meet ANY of your needs, don''t be shy to ask for some of her special treatments. In fact ... Katie! What are you doing? Oops, my boss caught me just as I was running for a potty break, and sure enough I wet my panties right in front of our new client! How embarassing to have to stand there with my warm pee trickling down my pantyhose, leaving dark wet spots across my suede t-strap heels, and pooling in to a giant puddle on the floor! Then imagine my shock when you reached up under my skirt to squeeze my flooded panties and got a big handful of my hidden crossdresser clity! Hmm, looks like you''re enjoying what you found under my skirt though. Maybe you''d like to see a demonstration of my services? Plopping down in my own puddle of piss, I preceed to demonstrate my massage skills on my own swelling clitty for you, continuing to squirt a mix of pee and pre-cum all over my socks, skirt, and floor. Maybe I should show you what I can do with my ass too. Soon I''m stretching my sissy pussy over a thick champagne bottle. See, I''ll be able to fit you no matter how big you get ;) At the end of this set, I make sure to demonstrate exactly why this is called the Spermy Spa, giving myself a huge self-facial. And of course I don''t just swallow my giant cum load, I spit it out and slurp it back up again, making quite a show out of soaking my shirt and coating my entire face in my sticky cum. By the time I''m finished you''d think I was just at the center of a bukkake party! So, which of those treatments can I get started for you? ;)
VIDEO - 2015-09-28: Sexy footjob video in Wolford pantyhose! Katie-Ann has a foot fetish like none other, and with her 8-inch crossdresser cock she can fuck her own feet whenever she wants. I mean, what would you do if you had your very own pair of soft sexy soles and pretty painted toes wrapped up in the most luxurious nylons money can buy, ready to service your every need any time, any where? You''d be fucking your own feet too, I know you would ;) I start this footjob video of soft and sensual, talking to the camera as I oh so slowly remove my sexy high heels and point my nylon-clad toes at you. If that''s not enough, I spend a LOT of time giving you ultra closeups of my stockinged feet and cute crossdresser toes . . . before lifting my velvet skirt to show you what else I have encased in my Wolford pantyhose ;) Don''t worry, I won''t tell if you start licking your computer screen imagining that you can taste the wetness dripping from my swollen clitty. Yeah, it gets that close ;) But wait, what''s this? Crotchless Wolfords? Yup, I''ve already taken the libety of freeing my clitty from its nylon prison. So all you get when you stick your head up under my skirt is a big mouthfull of tranny cock as my pantyhosed legs wrap around you, pulling you closer! Hang on though, you won''t want to miss the next part when I turn around to show you my beautiful tgirl ass, squeezing my engorged clitty between my nylon-encased thighs where your face was a moment before. I almost cum right down my own legs from rubbing my cock between my thighs, but I still have 2 new toys to show you today! Too much for you? Don''t worry, you can always cum back tomorrow to watch me work an enormous glass buttplug in to my virgin tranny ass. Oh, and you''ll get some excellent closeups of this as well ;) Then I proceed to fuck my stockings, grind my xdresser clitty against my soles, rub myself with my tiny toes, hump my sexy heels, and spank my swollen balls with my shoes. Oh, and then I finally break out my second toy, a new magic wand which I use to rub my desperate clitty against my feet until I spurt a huge (and I really mean huge!) crossdresser cum load all over my shiny new Wolfords. How''s that for a crossdresser footjob?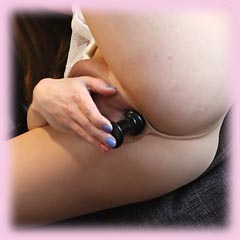 2015-09-05: Tranny pantyhosejob number 2! This time in sexy sheer Wolford stockings :) Oh yes, you know when I get a good request I just can''t get enough! I was so excited after my first pantyhose footjob set that I couldn''t help doing another one ;) This time I ordered some special sheer tan Wolford pantyhose to make sure that my sexy feet and painted toes would stand out. Plus I wanted to make sure that I would be able to shoot one of my famous massive crossdresser cumloads all over my nylon clad soles just by fucking my feet and my shoes. Oh yeah, and I introduced two special toys in these crossdressing photos as well! The most wonderful glass butt plug I''ve ever experienced, and a magic wand to torture the hell out of my engorged clitty as it''s trapped against either my sexy feet or my platform stripper sandals ;) And of course you won''t want to miss the comeback of my hot red hair either! Oh and one more thing. Once I get the video posted from this set I''m going to have a REALLY special treat for all my members. All thanks to this new buttplug I have. You''re not going to want to miss my next crossdressing update ;)
VIDEO - 2015-08-07: Foot fucker tranny masturbating with her feet! I admit it, I have a foot fetish. Specifically a pantyhose fetish. And under my pantyhose I''m hiding a clitty long enough that I can diddle it with my own toes ;) Enjoy 35 full minutes of foot action in my latest HD crossdressing video. Well ok, there are a few minutes of ass fucking in there too, but don''t worry - I''m wriggling my stockinged toes at the camera even as I''m plunging my heavy glass dildo into my tiny little asshole. Speaking of dildos, this thing is HUGE. I ended up spending some time working my sissy cunt over with the small end before flipping my toy around and swallowing the 2-inch diameter glass beads with my ass pussy all the way up to the hilt. Then I tucked my dildo in my pantyhose to hold it in place as I got back to fucking my toes :) If you''ve got a foot fetish or a pantyhose fetish, you''re definitely going to want to download this video. I even ruin my own orgasm in to a pair of nylon socks and stuff them in my mouth to suck out my own spunk. All that just from rubbing my oversized clitty with my nylon clad feet :) Of course there''s no way one ruined orgasm could be enough for this crossdresser, so it''s right back to my pantyhose footjob, this time with a nice closeup POV angle. You can really see the shiny nude nylon shifting over my painted toes as I rub and squish my clitty to a second crossdresser cumshot, this one all over my own sexy feet. This video has a very special ending with some of the most extreme foot closeups you''ve ever seen. Oh, and they''re pantyhosed and cum covered feet, did I mention? You''ll feel like I''m pressing my sticky worn pantyhose right in your face, dipping my little toes in your mouth as I massage my still warm sperm into the soft nylon material with my soles, letting you taste the salty mix of my spunk and my feet.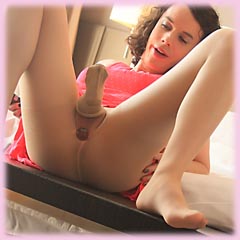 2015-07-25: Tgirl pantyhose sex! This is a set of full-on foot fetish photos, courtesy of a special request I received :) It starts with me teasing the camera with my stiletto heeled summer sandals before slowly slipping them off to reveal that I''m wearing ultra-sheer nude pantyhose. I spread my toes and get me feet up nice and close to the camera so you have a perfect view of the soft nylon material encasing my sexy crossdresser feet. After rubbing my stocking-clad toes for you and giving you tons of closeups of my feet, I finally peel down my panties to reveal that I''ve been a very naughty gurl - I cut a hole in the gusset of my pantyhose so my clitty can stick right out! Actually, it''s just big enough that my tight little pucker of a virgin asshole pokes out too . . . so I make quick work of that and stuff a massive glass dildo in my tranny pussy. Watch me stroke my rock hard cock as my sheer pantyhose hold that dildo in place in my ass :) Next I proceed to give myself a wicked pantyhose footjob. Yup, that''s right, not only can I suck my own cock, I can also give myself my own footjob ;) Apparently my toes are more talented than I realized though - as I''m teasing the camera by stroking my cock with it wrapped up tight in a nude trouser sock, I suddenly start cumming from my own footjob! Oops! Well, you know I''m not one to waste cum, so I suck my crossdresser load out of my sock and dribble it down my chin. Of course, that wasn''t how this scene was supposed to end, so I rearrange the camera and start stroking again, fucking my nylon feet with my growing cock to a second orgasm, this one all over my pretty painted toes. Ahh, that''s better :) Now it''s your turn, bring that cock over here ;)
VIDEO - 2015-07-04: Kinky Katie-Ann''s crossdresser cock bursts right through her thick wool tights! My newest crossdressing video is full of feet, extreme cock and ass closeups, and dirty talk - I know, it''s all your favorite stuff packed in to one video ;) Enjoy a nice pantyhse upskirt scene to start, but what''s this? I''ve caught you peeping at me trying to get a free show! Naughty boy, if you wanted to watch me masturbate all you had to do was ask ;) No, I don''t mind if you stroke your cock while you watch me rubbing myself through my cableknit tights, go ahead. Tell you what, help me take my heels off and I''ll give them to you to sniff and stick that horny cock of yours in too. Mmm, that''s better. Do you like watching me rub my toes together in my cute lace socks? You want to stick your cock betwen my soles too? Well ok, but you''re going to have to do me a favor too then. Here, let me pull my pantyhose down a bit. Ohh! You loos a little surprised there - not what you expected to find in my panties? I hope you''re a fast learner then, because you''re about to get your first mouthfull of tranny cock! Listen to me instruct you to suck my cock and lick my virgin ass pussy with closeups so extreme you''ll be able to see right up inside of me. After you''ve had your fill I go back to touching myself until I get so horny that I burst a hole right through my tights. Oops :) Now that I can''t put my clitty away anymore, I guess I''ll just have to take care of it by shooting an extra large load of xdresser spunk all over those toes of mine that you love so much. Peeling off my sperm coated lace anklets I hand them to you. Here, clean these up for me now ;)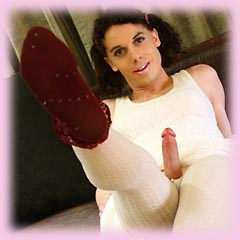 2015-06-19: Foot fetish sissy bursts open her tights. Well you know how horny I get when I''m taking new crossdressing photos for you! Sometimes it''s just too much for my pantyhose to contain, and my 8-inch cock tears right through them :) Let''s be honest though, you wanted a good look at my famous clitty anyway, didn''t you? So much for trying to look all innocent in my white dress and thick wool cablekint tights. Not even my sweet polkadot lace anklet socks or pigtails in my hair are going to fool anyone now, not with the hole I tore through the crotch of my tights with my overgrown tranny cock ;) No worries, I''ll still try to distract you from my throbbing cock by teasing you with the soles of my cute socks, wiggling my toes at the camera, and smiling oh so sweetly. But in the end my clitty gets the best of me (like it always does!) and I end up squirting a huge load of crossdresser cum all over those pretty polkadot socks you were just admiring. Oops ;) Hope you like cleaning up cummy messes as much as you enjoyed me teasing you with my toes!
VIDEO - 2015-05-31: Would you like sperm with that? Crossdresser Katie Ann gets her cum play on, and wants you to join in too :) This xdressing video starts innocently enough with a little upskirt peak at my pantyhose, but pretty soon I''m writhing on the kitchen counter explaining how horny I''ve been recently. Next up is some serious foot fetish action. I whip out my clitty before it tears through my sheer nylons and stuff it in to my sandals, grinding my cock between my pantyhosed foot and my shoe. Then I proceed to fuck my heels and feet in every way imaginable, even spanking my balls with my sexy white sandals. The whole time my clitty is growing out of control - I told you I was horny! With a wicked grin, I grab a condom full of orajel and slide it over that naughty cock of mine. No sense cumming early when I have a big surprise for you at the end of the video. But would you believe that the feel of that warm numbness spreading down my cock as I pulled my condom down was enough to make me splooge right there!? Yup, lying helpless on my kitchen counter I inflated that condom with tranny sperm without even touching myself! Well, no worries. I guess you get a little appetizer before I serve breakfast. Enjoy the close-up of my cum-filled condom as I hold it out for you and empty it in to your mouth. Ok, now back to the kitchen I go, to finish making your breakfast! After the load I just shot, it''s going to take me a little extra work, so I get out my favorite glass dildo and go to town on my sissy ass. I pump my sweet little ass good, desperate to give you the delicious cum breakfast I had planned. Finally I''m ready, and I move over to the stove to start your cum omlet :) Ah, there''s nothing like having a crossdresser for a housewife, is there? ;)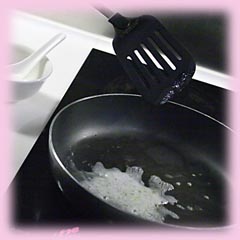 2015-05-23: Xdresser Katie makes a cum omlet for breakfast! I just love the taste of warm spunk in the morning ;) I went for a 1920''s housewife look for these crossdressing photos, complete with full fashioned nyon pantyhose, a new hairdo, and bright red lips. Wouldn''t you love to have a gurl like me to cook you breakfast every morning? I''d get up extra early to slip in to my pantyhose and do my makeup. And I promise I''d make everything fresh! I went straight to the source and squeezed out some fresh cream for your omlet. I hope you enjoy it as much as I enjoyed making it for you ;) Now come over here to get your after breakfast blowjob, you''re not the only one who needs to eat in this house!